---
August 15, 2019
Netzer Australia, Netzer South Africa, Colônia da CIP and Avanhandava (Brazil) recently wrapped up a successful year of their annual winter youth camps.
Machane B'yachad, Netzer Australia's camps from Progressive Jewish communities in Melbourne and Sydney, brought more than 100 participants from each city to campsites in the regions of New South Wales and Victoria, a few hours from Melbourne and Sydney, respectively.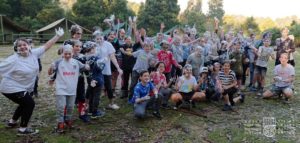 Morgan Baynash, a madricha (counselor) at both camps, began in 2017 after finishing Shnat Netzer, the Israel gap year program for Progressive young adults. Baynash said she looks forward most to celebrating Shabbat at Machane B'yachad each year.
"Our Shabbat services are incredible and special. Our chanichim (campers) get involved writing, running and playing musical instruments in our services," Baynash said.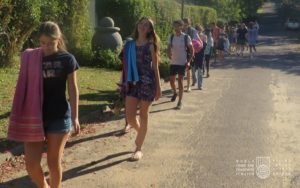 Rachael Sara, head of education at Netzer South Africa, creates and manages the educational programming for their annual leadership-focused winter camp and advises the camp's madrichim (counselors). According to Sara, the camp's name, Chazak Chazak veNitchazek, means "Be strong, Be strong, and we will be strengthened."
With participants only in grades eight and up, the winter camp is smaller than their summer camps, providing a more focused and mature experience for older campers.
The camp's goal is, "strengthening our leadership skills and understanding the movement and its core values, as well as deepening our love for each other," Sara said. "We feel that if you are invested in the people, your connection to the movement will grow stronger, and if you are passionate about the movement, then you will grow to be invested in the people."
Netzer South Africa's winter camp is held in Durban, a coastal city in the east of the country, a warmer location for the season than the Cape Town location of their summer camps.
Sara said the coastal setting of camp contributes greatly to her fulfilling experience. "[My favorite memory is] learning to play ukulele on the beach in the beautiful sunshine with my chanichim," she reflected.
In South America, Avanhandava ("Ava") and Colônia da CIP gathered 240 participants at their winter camps.
Ava, the first Brazilian Jewish youth organization and precursor of the religious freedom of the girlscout movement in Brazil, had days full of fun activities and competitions. "Sleeping in tents, an unprecedented experience for many, was one of the chanichim's adventures that together shared remarkable moments, among them an all-day kvutzot (groups) competition that ended with a banquet for everybody; a war-like game played all over the camp with many challenges, and a mega-peulah (activity) with teams, games, and
lots of colors and shades of paint", explained Victoria Kimmelmann, mechanechet (educator).
Colônia da CIP winter machane was marked by moments of spiritual connections, educational opportunities, social events and physical activities. "The idea is to nurture one's commitment throughout the semester as well as attendance. Collective growth is the purpose of making Colônia even bigger, said Ariela Kalili, Colônia mechanechet.
About the author: Kirby Goodman is interning with the World Union this summer through Onwards Israel, gaining professional experience in journalism and research into global issues facing our movement.