Mercaz Shimshon – Beit Shmuel, headquarters of the World Union for Progressive Judaism, offers deluxe, full-service accommodations year-round in the very heart of

Jerusalem

. The complex is shared with the campus of Hebrew Union College-Jewish Institute of Religion and overlooks the dramatic walls of the Old City. Mercaz Shimshon also provides complete banquet facilities and catering for special occasions.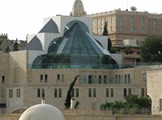 Mercaz Shimshon / Beit Shmuel also provides a wide range of educational and cultural activities that reflect the spirit of Progressive Judaism, and offers a spectacular venue for a variety of private functions.
A number of programs and services are available to the public:
A cultural and education department with diverse programs and activities aimed at cultivating and enriching Jewish-Israeli culture.
A modern, beautiful theater that seats up to 400 guests for various cultural and educational events.
Classrooms of different sizes used for a variety of educational, cultural and private activities.
A guesthouse and hostel with a unique atmosphere in the heart of Jerusalem, within walking distance of Old City and the newer city center.
A magnificent glass-domed banquet hall overlooking the Old City.
FAQS
---
What is the difference between Beit Shmuel and Mercaz Shimshon?
Beit Shmuel is the original building, opened in 1986, with 41 hotel rooms, classrooms, dining rooms, administration offices and a Patio that serves as an outdoor reception hall for various events and activities. Mercaz Shimshon was completed in 2001, as an extension to Beit Shmuel, with 11 luxury guesthouse rooms, conference rooms, the Hirsch Theater, and the beautiful Blaustein Hall – a banquet hall with a spectacular view of the Old City. These two buildings are interconnected and form one complex under one management, today referred to as "Mercaz Shimshon-Beit Shmuel".
Are events and activities in the complex oriented solely for public associated with "Progressive Judaism?"
Not at all. Cultural activities, hostel & guesthouse, and privately catered functions are open to the general public, i.e., secular, traditional, orthodox, and non-Jewish populations. We fully respect each individual's religious or other beliefs and do not impose any values whatsoever. In fact, the majority of guests who frequent Mercaz Shimshon-Beit Shmuel are not necessarily affiliated with Progressive Judaism and come from a variety of backgrounds, including many Orthodox Jews.
Are the facilities Kosher? Does the Chief Rabbinate permit Orthodox marriage ceremonies?
The catering services, kitchen, dining rooms and cafeteria are Kosher under Rabbinate supervision and have a full-time in-house Orthodox "Mashgiach". A Kashrut certificate is issued by the regional Rabbinate. The venue is recognized by the Chief Rabbinate as Kosher and suitable for Orthodox Chuppah & marriage ceremonies.
What is your Shabbat observance policy?
This is not an Orthodox venue. However, due to Kashrut considerations, kitchen and catering services must abide by Rabbinate regulations regarding Shabbat observance. The hostel and guesthouse operate, as any hotel, 7 days a week, and our guests are kindly requested to respect the more traditional public by refraining from activity that is viewed as "desecrating" Shabbat in our public areas. Cultural performances do take place on Friday evenings in the Hirsch Theater corresponding with our ideology to provide Jerusalem residents with a viable alternative to other cultural institutes that are closed on Erev Shabbat. There is both a physical and operational separation between these activities and kitchen and dining areas, in compliance with Kashrut regulations.
Are the premises secured?
Mercaz Shimshon-Beit Shmuel has a security department, headed by a Chief Security Officer who reports to a professional security company and other security authorities as required. The premises are secured 24 hours a day with armed security guards at all open entrances. Guests entering the building are subject to a routine search, for their own personal safety, and are kindly requested to co-operate with the security personnel.
Is parking available?
Despite being located in the heart of Jerusalem, parking generally does not pose a problem. There are parking meters during the day for some of the spaces (until 6:00 pm weekdays, for a cost of approx. $1 per hour). On rare occasions when there is parking shortage there are several privately owned parking facilities nearby at a reasonable rate. Those guests who have reserved a part of the facility for a private function and guesthouse residents may park free of charge in the Mercaz Shimshon underground parking. This is subject to an agreement with the management in advance and space availability.
Is there accessibility for the physically challenged?
The building, especially the new wing completed 2001, was designed and constructed with the highest standards of accessibility. The elevators reach every floor, and restrooms for wheelchair users are available. The underground parking has spaces reserved for the physically challenged and is accessible by elevator.
Is there a synagogue on the premises?
Synagogue facilities can be organized in one of our conference rooms to meet the needs of in-house groups and private events. Guests can conduct their services according to their wishes and beliefs. In addition, a number of synagogues of various styles and denominations are within easy walking distance.
Is it possible to rent a hall from you for a private function and bring my own caterer or food?
A private catering franchisee – "Cezanne Catering Services" – operates exclusively within Mercaz Shimshon-Beit Shmuel. This is an experienced company that enjoys a renowned reputation for hosting a wide range of catered events. Due to the exclusive contract with this company, and under the terms of Kashrut supervision, food and beverages from any external party are not permitted.
Is Mercaz Shimshon-Beit Shmuel part of Hebrew Union College?
No, Mercaz Shimshon-Beit Shmuel and HUC are two neighboring institutes, but totally separate in management, administration, and operation.
How would one rate the hostel and guesthouse in international hospitality terms ("star" rating)?
The Israel Ministry of tourism no longer rates hospitality facilities by "stars". The hostel rooms in the original wing are clean and comfortable and referred to as "Youth Hostel" class. The spacious, luxury guesthouse rooms in the new wing were built and equipped with very high standards of "Superior First Class". Please note, however, that we do not offer the full range of facilities usually available in a Superior First Class hotel such as swimming pool, hotel shops, beauty parlor, health club, executive lounge and room service. Nonetheless, our central and prestigious location in the heart of Jerusalem ensures quick and easy access to the best of Jerusalem's shopping, dining, sightseeing, and tourist services.
The website indicates room rates on Bed & Breakfast basis. Do you offer also Half Board or Full Board accommodation?
Yes – please contact the reservations department for the various rates.
What are the operating hours of the cafeteria?
Sunday-Thursday 9:00am-6:00pm. Hot meals are served until 3:00 pm. Fridays and on the eve of Jewish holidays the cafeteria closes at 12:00 noon.
Are tourists exempt of V.A.T?
Tourists staying at the hostel or guesthouse who pay their bill in foreign currency are exempt of V.A.T. on their accommodation package. This does NOT apply to: Israeli citizens or residents, guests paying in local currency, privately catered functions, or any other expense that is not included in the basic accommodation package and settled through the room bill.
What are room check-in / check-out times?
Check-in from 2:00pm, check-out until 10:00am. Guests who arrive earlier or wish to leave later may store their luggage, free of charge, in our luggage room. For Saturday check-outs, guests who are Shabbat observers may pre-arrange for a late check-out after Shabbat ends.