---
August 15, 2019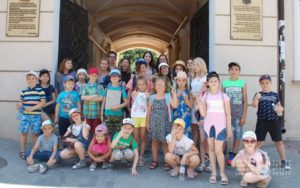 Netzer camp Ivriya, run by the World Union's reform youth movement branch in Ukraine, concluded their tenth year annual summer camp in the city of Odessa.
The day camp in Odessa's Progressive community of Shirat a Yam brought together 25 youth, ages 7-13, to explore the history of Zionism, the State of Israel, the Hebrew language and Odessa's connection to Israel.
The participants also studied influential Jews in the history of Odessa through education, arts, and recreational programming. The curriculum aimed to explore Progressive Judaism and Zionism to foster participants' connection and belonging to their local and global Progressive Jewish communities.
About the author: Kirby Goodman is interning with the World Union this summer through Onwards Israel, gaining professional experience in journalism and research into global issues facing our movement.