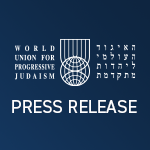 Many Candles, One World is the first virtual Chanukah celebration of the global Reform and Progressive Movement, a community of an estimated 1.8 million members in 1,200 communities and congregations in over 50 countries. Featuring stars from the worlds of theater, television, and music, performing alongside cantors and choirs, this year's online event emphasizes the universal connection and message of the holiday: the light of hope and the strength of tradition to bring us all together, even if we are apart this year.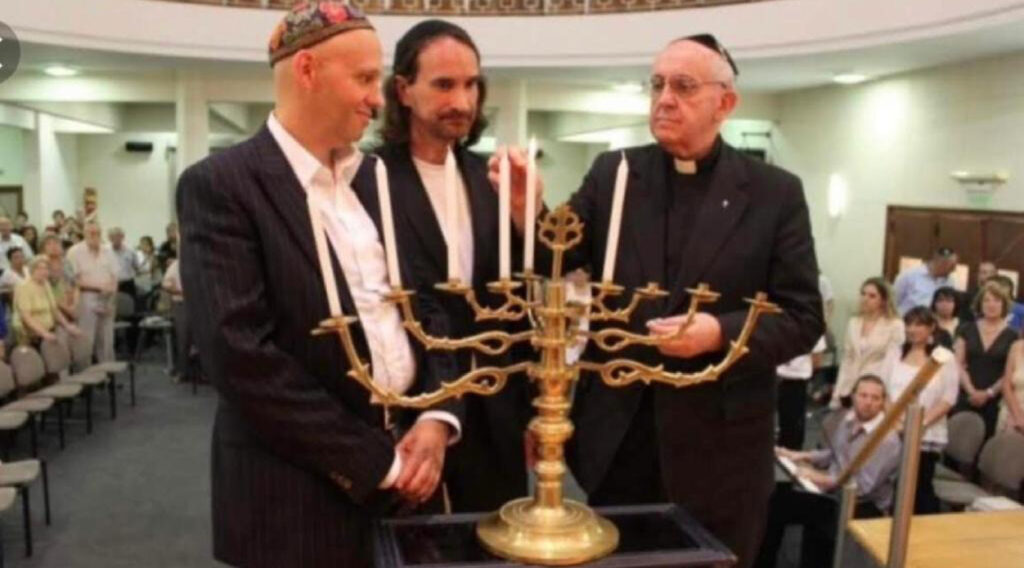 The event will also feature a message of goodwill from Pope Francis, the Head of the Catholic Church, who sent a handwritten, personal message to Rabbi Sergio Bergman, the WUPJ President, as a gesture of friendship and aimed at reaching across religions to connect everyone with his moving prayer for all of humankind – of every religion – to bask in brighter days ahead. The two religious leaders first met in their native Argentina and have shared moments of both joy and pain over the years, including a 2012 Hanukkah Interfaith Celebration lighting candles together at the synagogue in Buenos Aires.
The translation reads: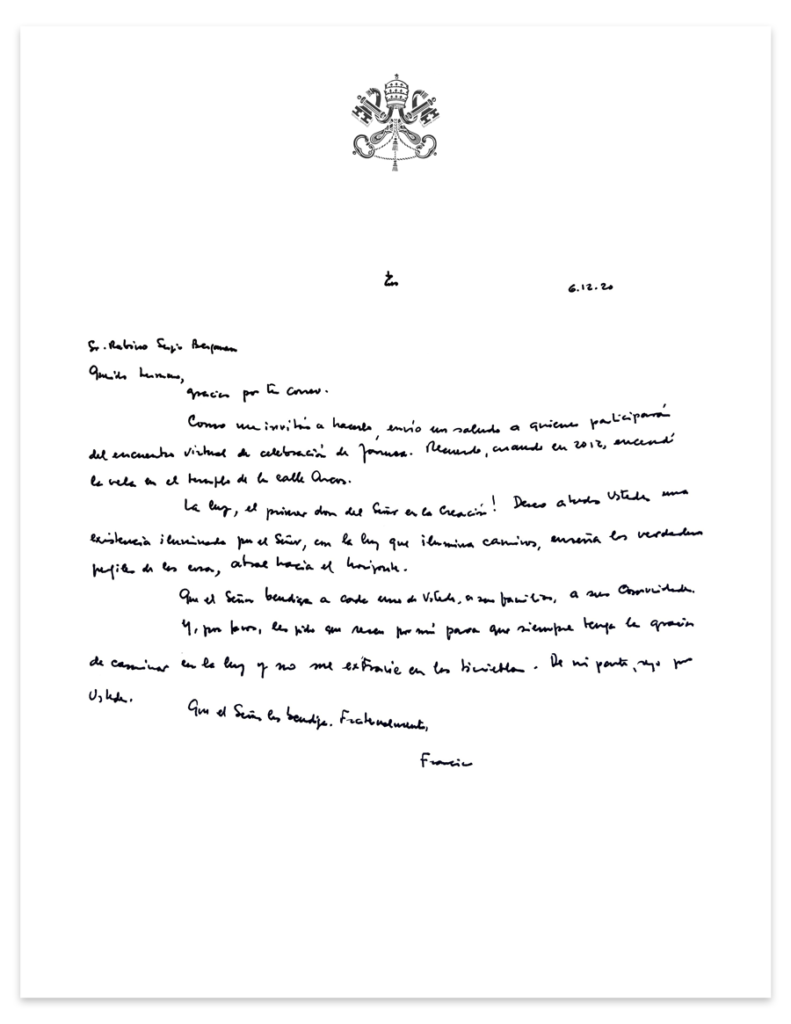 "Rabbi Sergio Bergman
Dear brother,
Thanks for your mail.
As you invite me to do it, I send a greeting to those who participate in the virtual meeting to celebrate Hanukkah. I remember when in 2012 I lit the candle in the temple on Arcos Street.
Light, the first gift of the Lord in Creation!
I wish all of you an existence illuminated by the Lord, with the light that unites paths, teaches the true profiles of things, draws towards the horizon…
May the Lord bless each of you, your families, your communities.
And, please, I ask you to pray for me so that I always have the grace to walk in the light and not get lost in the darkness. For my part I pray for you.
May the Lord bless you, fraternally.
Franciscus."
"We join Pope Francis in wishing all humankind, unity and strength in moving forward together, brothers and sisters, to repair our world which has changed so much in this pandemic with the light of Tikkun Olam," added Rabbi Bergman.
With Tony award winning producers, Yael Silver and Chase Thomas (Carmine Entertainment), at its helm, Many Candles, One World will feature musical performances and special appearances by: Emmy and SAG nominated actress, producer, and author, Mayim Bialik ("The Big Bang Theory", "Blossom"); musician and singer, Elana Jagoda; cantor and puppeteer, Evan Kent; world renowned Israeli singer-songwriter of Judeo-Spanish (Ladino) music, Yasmin Levy; Grammy Award winning songwriter, singer, and author, Lisa Loeb ("Stay"); Actors and singers, Henry and Jonah Platt; Broadway actress and singer, Sharone Sayegh ("The Band's Visit", "Mama Mia!"), and legendary singer-songwriter, Peter Yarrow ("Peter, Paul, and Mary"). Celebrities will be joined by cantors and rabbis from around the world each sharing songs, blessings, and insights into the meaning of Chanukah.
The music will be interspersed with entertaining clips from rabbis and individuals around the world answering the question "To me, Chanukah is . . ." and (with the help of creative editing) the longest, global, virtual chain of Chanukah candle lighting ever recorded on video!
"We created Many Candles, One World in response to the COVID-19 pandemic and the shift in Jewish life from communal to individual that has taken place across the globe," said WUPJ President Rabbi Sergio Bergman. "Together with WUPJ Chair Carole Sterling, we realized that we needed to find a creative and engaging way to celebrate Chanukah with our entire Reform and Progressive family. Chanukah is also an ideal time to raise funds to support educational initiatives for youth, young adults, rabbis, lay leaders, and Jewish educators for our congregations around the world."