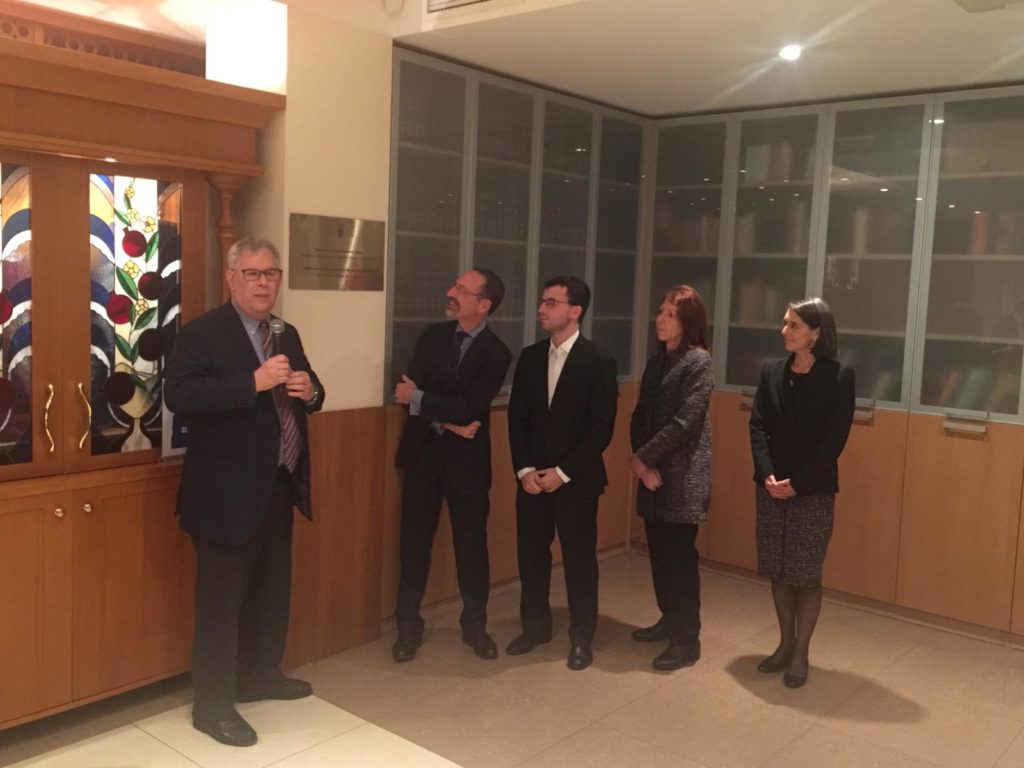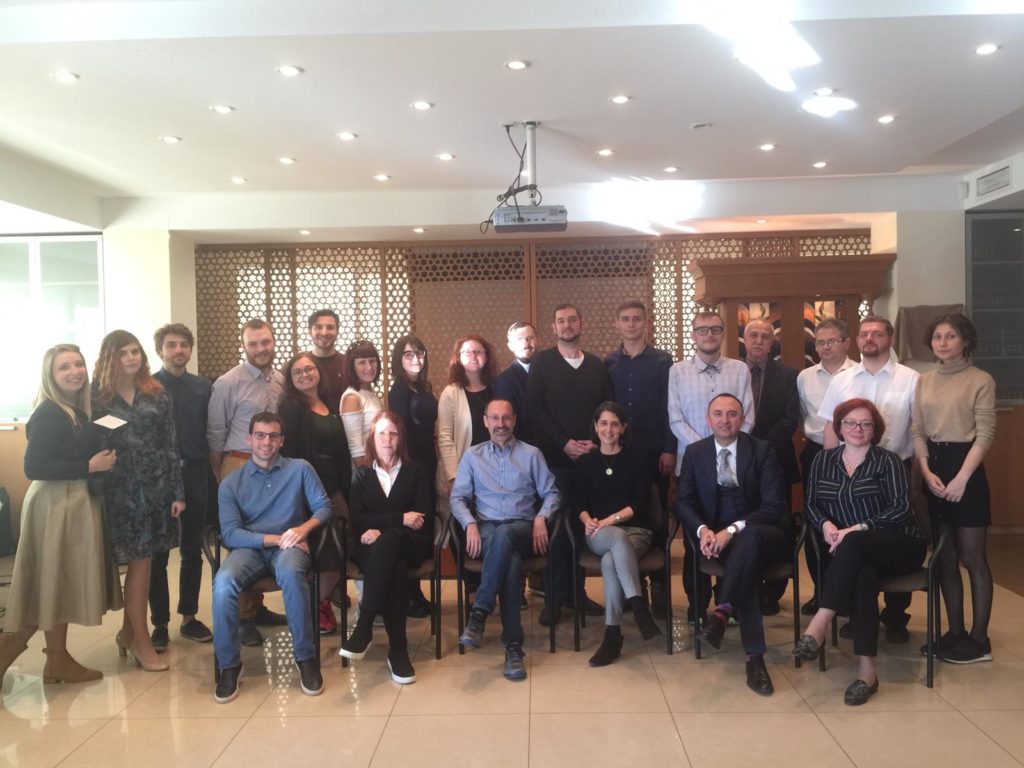 On Monday October 15th, the World Union, and its partners in the Institute for Modern Jewish Studies – Russian State University, Abraham Geiger Kolleg, and Potsdam University – came together to dedicate and open the Frances Aaron Hess Memorial Library at the Institute.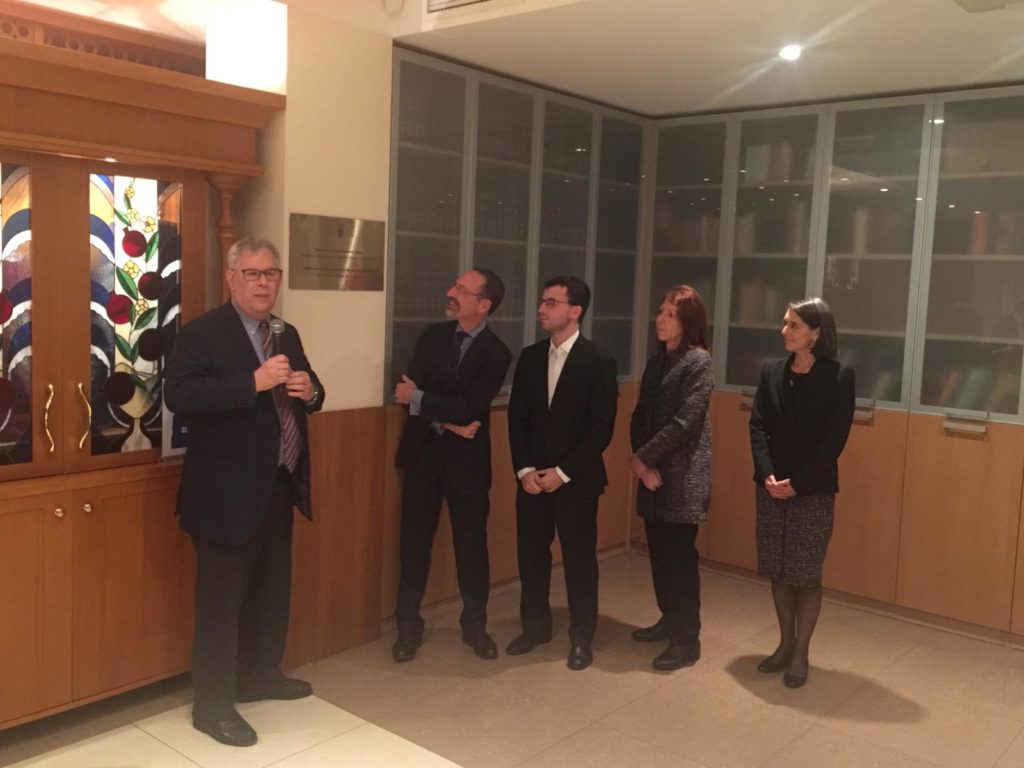 Now in its third year of operations, 21 students are pursuing BA and MA degrees, with continued rabbinic certification studies, to serve as Russian-speaking Progressive Rabbis and Jewish Educators for the growing Progressive Jewish congregations across Belarus, Ukraine, Russia and more.
Below is the moving speech delivered by Dr. Alex Kagan, Rector of the Institute and Head of Global Strategic Planning for the World Union at the event, in the presence of distinguished guests including donors from the Hess family, students from the Institute, leaders from our partner institutions and Rabbi Daniel Freelander, President of the World Union.
Good evening, ladies and gentlemen.
Tonight we celebrate the dedication of the Frances Aaron Hess Memorial Library of the Institute for Modern Jewish studies in Moscow.
The Institute for Modern Jewish studies in Moscow. Who would have believed five years ago that there would be a library wholly for the Institute? Who would have believed that there would be an Institute at all?
The joint program of WUPJ, RSUH, Geiger College, and Potsdam University is:
– A four-year B.A. at the RSUH Institute for Philology and History in Moscow in a track called, "Arts and Humanities".
– An M.A. and Rabbinic studies in Germany first completing the MA, with a thesis, in Abraham Geiger Kolleg and Potsdam University. Then going to pursue an M.A. and Rabbinic ordination from Geiger Kolleg.
– An M.A. and Ph.D. in Russia or Germany for students with high academic potential and achievements to continue studies for a PhD at RSUH or Potsdam University as an extension of their studies.
Who would have thought this was possible?
As the great Rabbi Dick Hirsch, Honorary President of the World Union, whose own library books are also kept here in the Institute's library, taught me: if you believe in an idea, go with it all the way because you will always find partners, money and all the possible support. And so, I went with it, even ran with it.
Now, five years after launching, we have:
21 students in the four-year study program, among the finest students in any university. We carefully searched and reviewed each one of them, selecting the most promising for our program.
Agreements of partnership and collaboration signed with Potsdam University and RSUH University, Geiger Kolleg and WUPJ
Five of our students have already been accepted to continuing studies at Geiger Kolleg
A grant has been received from the Erasmus Plus fund making it possible to start an exchange program between universities. One of our students is studying in Berlin, and a German student has come here.
We are advancing in our negotiations with Abraham Geiger Kolleg to expand the cantorial program. We have a number of talented students with beautiful voices and great talent.
This year, 2018-19 academic year, five students who began their studies in the first year of the Institute will receive their BA.
I am sure that this is only the beginning and these achievements will continue to multiply with time. Why are we doing so well? Because this is program meets the most essential need: training local Russian-speaking Reform rabbis, professional educators, and community organizers to support the entire Jewish community (not only Reform) across the FSU and the world.
We of course owe some of our success to our partners in Russia, RSUH, and in Germany, Abraham Geiger Kolleg and University of Potsdam. Additionally, without a doubt, the Institute's success can be attributed to our dedicated staff.
But none of this have been possible without people like Frances Hess of blessed memory, who volunteered in a variety of positions at HUC-JIR, as an officer of the American Jewish Committee, and trustee of Vassar College. She chaired Temple Emanu-el Philanthropic committee, among many others and served on WUPJ NAC (now the North American Advisory Board NAAB). She endowed the Frances Aaron Hess Award at Vassar College to encourage volunteerism.
I met Frances in 2012 during one of my visits to the U.S. when I was to speak before the committee that provides assistance for the World Union's FSU operations. She met me at the entrance of the synagogue and I felt that we had known each other for years. She asked about my family and my children and then started introducing me to all the congregation members. These are of course all the virtues of a Jewish mother and grandmother, however she was so proud of what she believed in: supporting the renewal of Jewish life in the FSU. It was so obvious and so moving.
Now, it is most symbolic that with the participation of her son, daughter in law, grandson and relatives, we are dedicating the Institute's new library in her memory. Frances' soul, faith and pride are captured and present in this library.
I would like to thank Frances for what she did for us, because without her support and faith, this would not have been possible.
I would also like to thank the dear Hess family for your efforts to be here, it is most appreciated and treasured, as is your continuation of France's legacy.
We will continue our work, because we are not required to complete it, especially since so many good people believed and continue to believe in us.
Thank you very much.
The World Union is grateful to the Hess family for their unwavering support and commitment to Progressive Judaism in the Former Soviet Union and the Institute for Modern Jewish Studies. To learn more about our activities across the region – including engaging the next generation and building new communities, we invite you to click here and read the stories linked below.