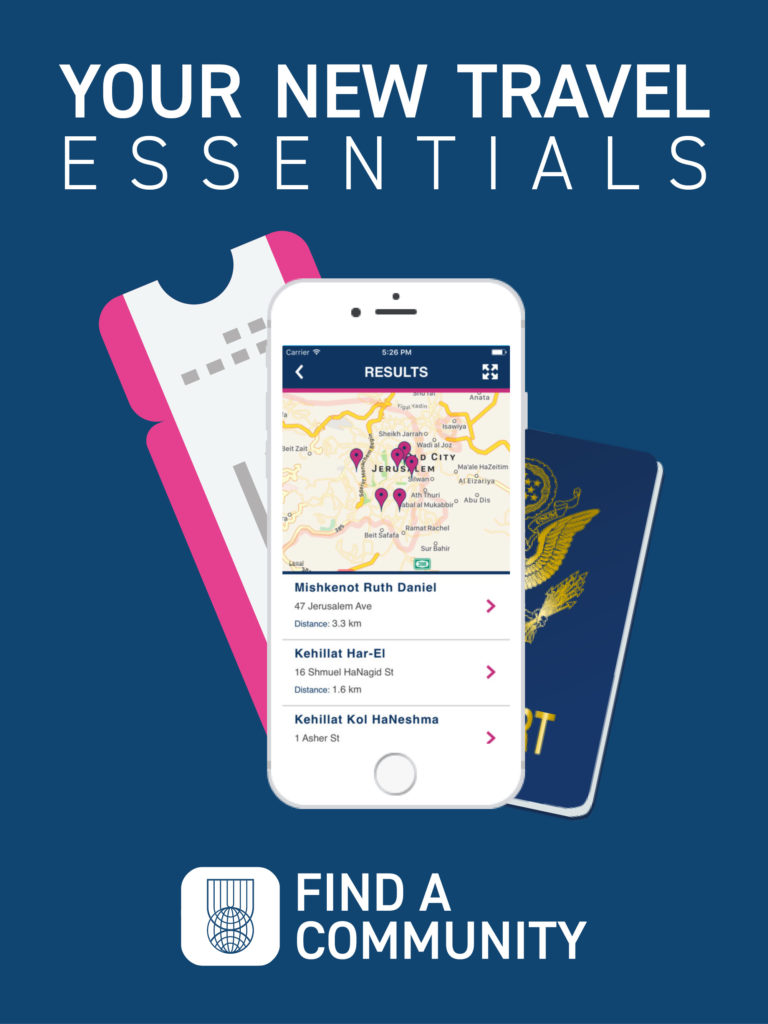 Are you aware of the many opportunities that our global Reform Movement provides for all of us?  Because your congregation is part of the larger Reform Community, you belong a regional organization – like the Union for Reform Judaism (URJ) in North America, where I live; the European Union for Progressive Judaism (EUPJ) in Europe; the Israel Movement for Reform and Progressive Judaism (IMPJ) in Israel; the Union for Progressive Judaism (UPJ) in Australis, New Zealand and Asia; and others – and to the World Union for Progressive Judaism (WUPJ) as the global connecting platform for Reform, Progressive and Liberal Jews around the world.
Our new Find a Community app – currently in app stores for iPhone and Android users – gives you all the information you need to find a Reform Congregation anywhere from Wheeling, West Virginia here in the USA to Warsaw Poland, or even from Buenos Aires to Budapest.
Travelling is a part of many of our lives especially in today's world, and people now travel at a young age.  We, as parents and grandparents, encourage our children to connect with other Jews especially at holiday time.  College kids spend time studying abroad and the same is true – they want to connect.  For many of us, traveling to other countries is a passion. Connecting to a Reform Congregation or to Reform Jews is important.  Perhaps finding a Congregation for Shabbat is not your cup of tea, but finding a friend in the far corners of the world to have a cup of coffee or a glass of wine can be a rewarding experience.  Connecting any time can be very meaningful.
The World Union's Find a Community app provides contact information to allow you to be in touch with any Reform Congregation in 50 countries in the world.  In the 21st century, you can now find Reform Jews anywhere.  Here are just two examples:
Phnom Penh, Cambodia -With periodic visits from Rabbi Nathan Alfred, who also serves as the first resident rabbi of the United Hebrew Congregation in Singapore, the new Progressive community in Phnom Penh meets on Shabbat and holidays. The Community includes ex-pats stationed in Phnom Penh for business, Israelis passing though and other young couples and families.
Lisbon, Portugal. WUPJ is bringing Judaism back to the country after more than 500 years. Congregation Ohel Yaakov joined the EUPJ in 2016. It is the only Ashkenazi and liberal congregation in Portugal. The congregation has a collection of Torah scrolls brought by the Polish Jewish refugees running from the Nazi regime including a part of a Torah scroll, which survived Kristallnacht.  Started by Polish Jews, the congregation also seeks to integrate the descendants of the B'nai Anusim, those Jews who were forced to convert during the inquisition and are now in search of their Jewish roots and identity.
My wife, Sandy, and I have enjoyed visits to congregations in Melbourne and Sydney in Australia, London, Berlin, and we met for coffee with a Temple President in Strasbourg, France.  A few years ago, we had great experience in Budapest, Hungary.  There are two progressive congregations in Budapest.  We had a wonderful experience at one congregation, celebrating Simchat Torah. We later met Rabbi Raj from the other congregation for a tour of the Jewish part of town.  It concluded with coffee and cake at his niece's cafe.  Today, many of us travel on the river cruises from Budapest to Prague or perhaps the Rhine.  Take the time to get together with Jews in these communities; it adds some personalization to the trip resulting in wonderful memories.
As you can see, you  have the opportunity to make a connection while studying, working, or traveling anywhere whether within your own country or overseas. Arrange to meet someone from a local congregation wherever you go….it is so easy – just USE THE APP. Our Reform movement in Israel is growing each year.  We have synagogues and friends in places throughout the country.  Plan to visit with them, by making arrangements, through the app.
I hope you are able to enjoy meeting new friends around the world when you travel in the 50 countries the World Union has congregations.
Visit www.wupj.org/app today to download the World Union's Find a Community app – and start planning your Jewish travel connections today!
About the author:
Tadd Schwab is an Executive Board Member of the World Union for Progressive Judaism (WUPJ) and a member of the Union for Reform Judaism (URJ) Board.