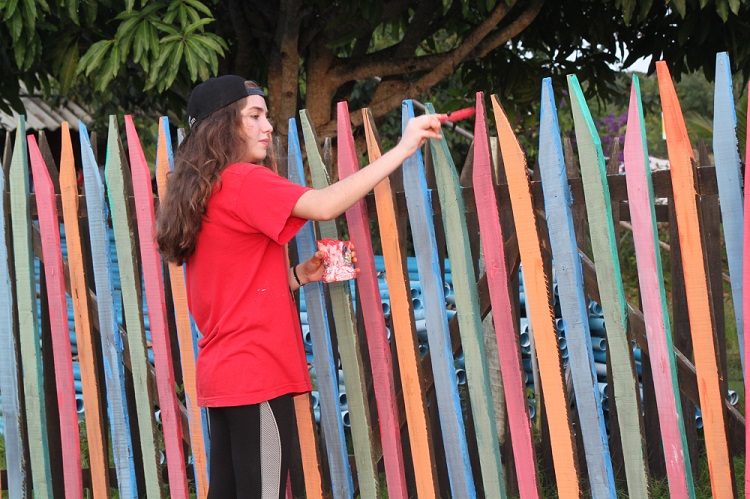 "Glad you're here. We thought the world had forgotten us," said Cacique José Barcelos, from the Botocudos tribe, in Vila do Areal, Espírito Santo.
Cacique's village was others destroyed in the environmental disaster which hit the entire Rio Doce in 2015. He tells the group of young adults who have come to restore and repair the community as part of the Tamar Tikkun Olam seminar, now in its third year, that the entire community lived from fishing in the Rio Doce and from the cultivation of cacao. The toxic mud that flooded the region destroyed crops and communities along its shores for at least 20 years, according to studies.
Together with the Instituto Unidos Pela Vida, the União do Judaísmo Reformista (UJR-AmLat) has developed a Tikkun Olam project for young adults from our Reform congregations to visit and work toward improving the lives of the children living around the Rio Doce.
The first seminar was successfully held at the end of 2016 with communal restoration projects and learning together. The second seminar, in 2017, brought participants to build a soccer field for the local community which serves as the only recreation and communal space for the tribe, and is used by children, adolescents and adults alike.
Vila do Areal, coordinated by Marcelo Vilela, decided together it was time to create a more elaborate structure for education and recreation in the region. So the third Tamar Tikkun Olam seminar headed over with more than 30 young adults from all over Brazil, in partnership with the youth movement Habonim Dror, to spend four days of intense work building a community meeting space, playground and volleyball court.
Driven by enthusiasm and the desire to help, participants also painted several house exteriors and fences at the entrance to the village together with local residents. Another achievement was the donation of more than 400 children's books to the local school in partnership with the Aubrick School in São Paulo.
What started in 2016 with about 10 young adults from the Jewish community turned into a help network in 2018, with more than 60 activists, including almost 20 young architecture students from Espírito Santo, who joined this year's cohort.
"We came to help the community, and by doing so you helped us. There is nothing more Jewish than to remember that we are responsible for each other and that when the Jewish community joins the community of architecture students, the Dror community, the Areal and Regencia community, together we build something stronger," said Karin C. Zingerevitz, Executive Director of URJ-AmLat.
"We feel hugely embraced by all of you, and this exchange was something very enriching for everyone here. We are taking a lot more than we are leaving: the bonds, the sharing, the caring … the work was never exhausting," reflected Aquila Vasconcelos an architecture student from Colatina, Brazil.
"One important thing in Judaism is the concept of repairing the world. Together with it there is another Jewish principal for repairing the human being. Being together building and being partners, we are donating to ourselves and receiving much in return. This repairs us and helps to repair the world," added Felipe Kaufman Gorodovits, ARI and Dror, Rio de Janeiro