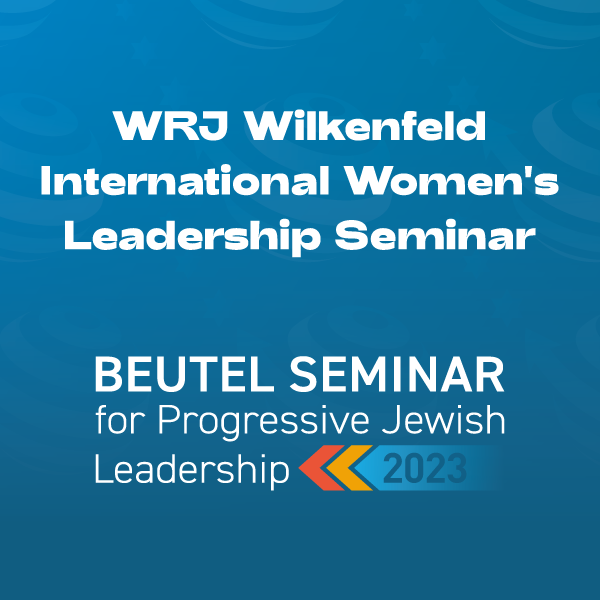 The World Union is proud that two exciting leadership seminars will be part of Connections 2023.
The WRJ (Women of Reform Judaism) Wilkenfeld International Women's Leadership Seminar 2023 offers an intensive education experience beginning the Monday prior to the start of Connections (Monday 1 May).
The seminar will be led by educator Sally Klein-Katz, an outstanding Jerusalem-based facilitator, and is designed to enhance both the leadership journey and WUPJ experience for all those taking part.
It is open to all women who register for Connections from outside of North America who have not previously participated in a WRJ Wilkenfeld Leadership Seminar.
WRJ is specifically seeking Reform, Liberal and Progressive Jewish women from around the world who are interested in developing successful strategies for making a difference, learning the power of 'why' and the importance of 'how', and taking on leadership roles in their home communities.
Participants will grow their leadership skills and become part of a global network of likeminded Progressive Jewish women. They will also receive a contribution towards their Connections registration fee.
Dr Kelita Cohen from Brazil, who took part in 2018, said: "It was a pleasure and an honor to attend the Wilkenfeld Seminar. I met an incredible group of women who have guided, supported and inspired me ever since."
Rita Fruman, originally from Belarus and now living in Israel, attended the first seminar in 2016. She said: "I met 20 wonderful Jewish women leaders from all around the world and realized how strong we are together. The activities and training gave me the opportunity to find the right key for the right door, in both my professional and personal lives, for which I am extremely grateful. I learned that my dream of being a Progressive Jewish leader could become a reality."
For more information on the WRJ Wilkenfeld International Women's Leadership Seminar, please click here. You can also contact Rena Lubin, WRJ Engagement Associate, at rlubin@wrj.org.
Register for the Wilkenfeld Seminar via the Connections registration form.
The Beutel Seminar for Progressive Jewish Leadership is designed for people who demonstrate long term leadership potential and who want to receive tools for improving leadership skills and innovative practices for community organizations.
The seminar will explore Progressive Zionist values through the complexity of Israeli society and through co-working. Each participant will develop a personal project and a network for inter-regional cooperation.
Participants will experience diverse best practices of Progressive Jewish leadership around the world, explore different ideas of wholistic Jewish living, strengthen their personal understanding of Israel and connect with lay leaders from many other countries.
By the end of the program they will have a global network with which to advise and receive support, made at least one change in their work and be able to state a personal leadership vision for their community, region and the WUPJ.
Previous Beutel participants have described themselves as "blown away by the quality of the seminar" and "overjoyed at the chance to meet fantastic people and share knowledge, ideas and best practice from all around the world."
Lisa Hack, National Vice Chair of The South African Union for Progressive Judaism (SAUPJ), said: "I feel like I'm on the path to becoming an expert in building and mending relationships within my region. I have learned that I could use more help in focusing on more achievable goals and projects. I want to continue to expand my knowledge of global Progressive Jewry and community and continue to meet with likeminded people like this group."
Beutel virtual workshops take place in March and April, with a nine-day seminar in Israel beginning with active participation in Connections on 3-6 May in Jerusalem and continuing in Haifa from 7-11 May. Virtual workshops then run again from June through September.
Space is limited. Please fill out the nomination or application form at www.wupj.org/beutel. If you require any more information, please email seminars@wupj.org.