The World Union and the European Union of Progressive Judaism (EUPJ) are supporting incredible work being done around Europe to help Ukrainian communities and refugees.

One project is Suitcases of Love. Started by American Barbara Cook, the daughter of Holocaust survivors, it involved Barbara taking donations of clothing, toiletries and suitcases from the USA to refugees who need it in Poland.

She was supported in her efforts on the ground by the Friends of Jewish Renewal in Poland and its community of synagogues, Beit Polska. The connections were made by the WUPJ, EUPJ and Rabbi Haim Dov Beliak.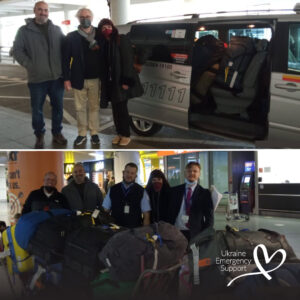 Beit Polska members, including Chair Marek Jezowski, helped distribute the clothing.
Rabbi Haim Dov Beliak said: "The hope is that these clothes will help the recipients normalize their situation through finding professional attire. They are specifically intended to help women feel appropriately dressed for interviews and work and the children's clothes were collected for school and nursery.
"The overall goal is that these refugees can start step on to the first rung of the ladder of sustaining their lives.
"We are very grateful for Barbara's hard work and dedication, as well as all those supporting the WUPJ and EUPJ's work during this crisis."
Suitcases of Love has been covered by The Forward, which you can read here.
---
Barbara was also interviewed by Fox News, which you can watch here.