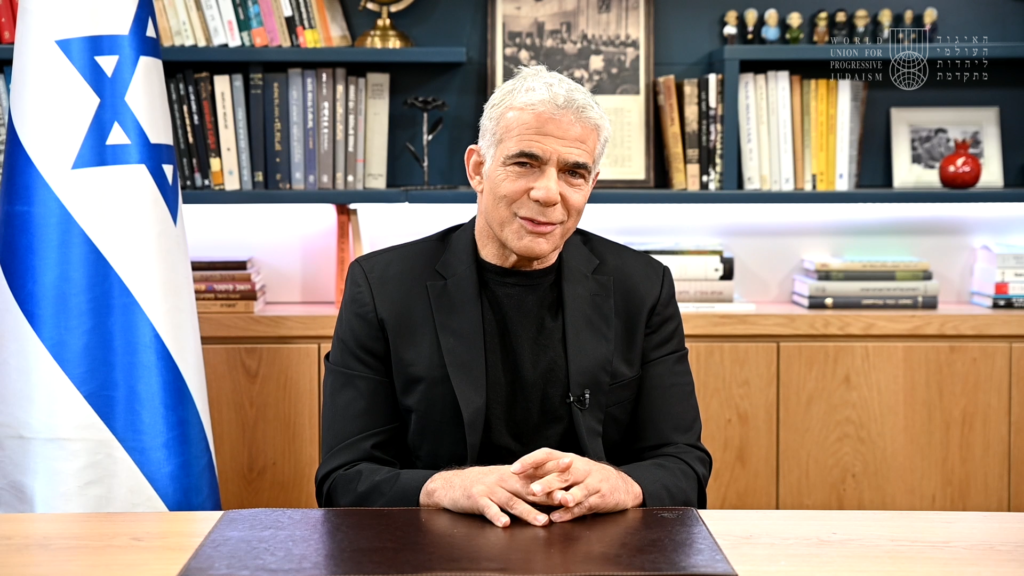 MK Lapid was a keynote speaker at the World Union for Progressive Judaism (WUPJ) Connections 2021 event, which is taking place this week, and laid out his vision with what he called "a typical Israeli lack of tact."
Speaking in front of 1,000 online delegates, with many more watching event highlights on social media, he promised: "I know I am a guest at this conference but I don't feel like one. I feel at home. I feel at home because Judaism is my home, pluralism is my home, and you are my family.
"I feel at home because this is where I can have the conversation we need to have. A conversation some people don't want us to have, a conversation about what it means to be a Jew in the 21st century, what connects us despite the ocean between us, what makes us one people."
He added: "I will defend your rights and your voice because it's part of my world view as a liberal. I believe there is absolute good and absolute evil in the world. I don't believe everything is relative. There are things we are all obligated to do and things none of us should be allowed to do because they are immoral.
"When Israel attacks Muslims or Christians, I tell them it's immoral to attack someone just because they have different beliefs. When Israel attacks Reform and Conservative Jews, I tell them it's immoral to attack someone just because they have similar beliefs."
Watch MK Yair Lapid message adressed to our global Reform and Progressive Movement.
Connections 2021 was attended by delegates from more than 50 countries, representing an estimated 1.8 million Progressive, Reform and Liberal Jews.
WUPJ President Rabbi Sergio Bergman, whose installation ceremony took place at the event, said: "MK Lapid expresses the WUPJ vision that Judaism is a broad civilization that invites creative interpretation and that includes and does not expel.
"Beyond all denominations, MK Lapid affirms the unity of the Jewish people in its diversity. May his mandate in the Knesset be part of the challenge that we all assume in each of our communities to create more just, loving and humane societies. This is the Progressive Jewish legacy for the whole world."