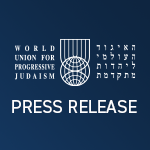 The World Union for Progressive Judaism strongly opposes the plan of Keren Kayemeth LeIsrael (KKL-JNF) to expand Jewish settlements by purchasing private land in the West Bank, within and beyond existing settlements. WUPJ has long opposed the proliferation of settlements.
On this important matter and others, our representatives to the Executive Board of KKL-JNF and other National Institutions will continue to advocate for our joint beliefs and values, and specifically respond to this proposed resolution in the coming days.
Our Progressive Movement supports the Jewish and democratic State of Israel. We will continue to work with our partners to oppose unilateral measures that may adversely impact attempts to reach peace, especially in the Zionist National Institutions which aim to represent the whole of world Jewry.
The World Union for Progressive Judaism, in partnership with our regional partners Israel and throughout the world, will always work towards a strong and secure State of Israel that affirms peace and whose actions are rooted in Jewish values.
Rabbi Sergio Bergman
President, WUPJ
Carole Sterling
Chair, WUPJ