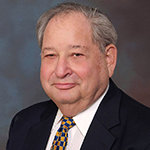 Join us in a worldwide memorial event marking the Shloshim of our friend Jerry Tanenbaum Z"L.
Jerry served as WUPJ Senior Vice President, on the WUPJ Management Committee, on the North American Advisory Board, and chaired the WUPJ Yad B'Yad Task Force. In 1988, he received an Honorary Life membership to the WUPJ Executive Board, and in 2000, Jerry was honored with the WUPJ's highest honor, the International Humanitarian Award.
The event, organized by Fundación Judaica and World Union with support from UJR AmLat, will be live streamed on Fundación Judaica Facebook page on this Thursday, August 27, at 9:00 pm Argentina Time (8:00 pm USA Time, EDT).
To get the Zoom meeting ID, contact: info@judaica.org.ar