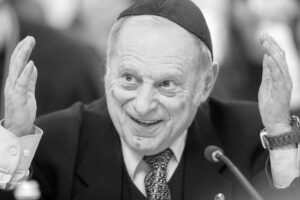 Zinovy Kogan, founder and guiding spirit of the first Progressive movement congregation in the Former Soviet Union, congregation Hineini in Moscow, died in Moscow on Friday, May 1, 2020. That he passed away on Erev Shabbat certainly adds, according to Jewish tradition, to the honor he deserves as a passionate devoted Jew. That he passed away on May 1, International Workers' Day, which in the Former Soviet Union is one of the most celebrated holidays in the year, certainly testifies to his legacy as an activist and beloved man of the people.
Zunya, as he was affectionately called by all who knew him, was indeed both a devoted Jew and an activist who worked tirelessly to advance the causes he believed in. He was also a bit of a maverick personality who seemed to defy definition and categorization. I came to know Zunya in the late 1980's when the World Union, under the visionary leadership of then Executive Director Rabbi Richard Hirsch, began to formulate a plan to help the "Jews of Silence" rediscover their proud Jewish voice.
Zunya was one of the Jewish activists in the 1970's and 1980's whose Jewish voice was never silenced. He would lead underground Jewish gatherings and services to preserve his proud Jewish tradition and identity. During those early years he met Reform Rabbis from the USA who visited the Soviet Union to help maintain Jewish pride and connection. He learned about Reform Judaism and understood that this modern approach to Jewish living had much to offer his generation of Jews who were thirsting for a Jewish way which combined religious tradition, social activism and love of Israel.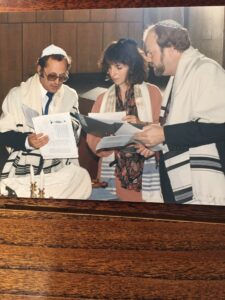 Zunya's search for Jewish connection and the World Union's programmatic activism and outreach to establish Jewish communities in the FSU after the fall of communism intersected when Zunya established the first Reform congregation in the FSU, Hineini, in 1989. In May, 1990 at the 25th WUPJ International Convention in London, Congregation Hineini was welcomed into the World Union family of congregations. I remember, like it was yesterday, when Zunya ascended the pulpit in West London Synagogue and read, in Russian, the 10 Commandments. Little could any of us have known then how Progressive Judaism would grow in the FSU to become, 30 years later, one of the dominant Jewish streams in the FSU: with established congregations in synagogue buildings in Russia, Ukraine and Belarus; the largest Jewish youth movement in the FSU, Netzer FSU; training institutions for rabbis and community workers; a Progressive Siddur and Torah commentary in Russian; and so much more.
Over the years Zunya found his professional place within the Jewish Orthodox establishment in Moscow, assuming the title of Rabbi and congregational responsibilities. Nevertheless, he always maintained an affinity to Progressive Judaism and participation in Progressive Jewish activity. Above all, Zunya was a people's person who loved being with Jews, leading religious services, representing Judaism in interfaith gatherings and conferences.
One of the most impressive moments in Zunya's early years as religious leader came in August of 1991 when at Manezh Square, just outside the Kremlin walls, he recited Kaddish for Ilya Krichevsky, the 28 year old Jewish architect, who, together with 2 others, was killed while protesting against the attempted coup by Communist Party hard-liners against Soviet President Mikhail Gorbachev. The State funeral took place on Shabbat and only Zunya, among Jewish religious leaders, was prepared to honor the Jewish protestor before a nationally televised audience and recite the Kaddish. It was a moment of Jewish pride for all Jews in Russia and it was conducted by the leader of Reform Judaism.
Back in January, 1992, after a working trip to the FSU and intense meetings with Zunya I wrote the following about him: "I truly love the man – without him we probably would not be on the map in the USSR today. He is a passionate Jew, a dynamic personality and a very caring and loving person."
We all mourn the passing of Zunya Kogan. His broad smile and sparkling eyes put you immediately at ease, often belying his tenacious determination as a true Jewish activist. Whether as an underground Jewish leader or the founder of Progressive Judaism in the Soviet Union, we owe Zunya Kogan a profound debt of gratitude. His unyielding commitment to the Jewish people and his passionate "Yiddishe Neshama" will long be remembered with much love.
Yehi Zichro Baruch. May Zunya Kogan's memory be for a blessing.
About the Author:
Rabbi Joel Oseran is the Vice President Emeritus for International Development of the World Union for Progressive Judaism. He also currently serves Beit Hillel Roma and contributes to the growth of Progressive Judaism in Italy.