Earlier in March, one of the oldest and most respected members of the Beit Simha congregation in Minsk, Yakov Kravchinsky, received a prestigious state award from the Federal Republic of Germany.
The President of the Federal Republic of Germany, Frank-Walter Steinmeier, awarded the Order of Merit to the Federal Republic of Germany (Cavalry Cross) to Yakov Kravchinsky and six other wartime witnesses from Minsk – Frida Reisman, Eugene Khrol, Alexandra Borisova, Boris Popov, Raisa Semashko, and Zinaida Goryachko.
In his speech at the award ceremony, the German Ambassador to Belarus, Manfred Huterer, addressed award recipients, explaining: "You share with the youth your bitter and painful memories of the war, publish them. You have made an invaluable contribution to ensuring that the crimes committed during the National Socialist obscurantism will never be forgotten in Europe. Thanks to your personal testimonies, we learn more about this tragedy."
In his address to Yakov Kravchinsky, the ambassador emphasized: "As a child, Mr. Kravchinsky was a prisoner of the Minsk ghetto. At the age of nine, he, together with his mother, fled from the ghetto and later was transferred to Shalom Zorin Jewish partisan detachment. He is a member of the Belarusian Public Association of Jews, the former prisoners of the ghetto and Nazi concentration camps.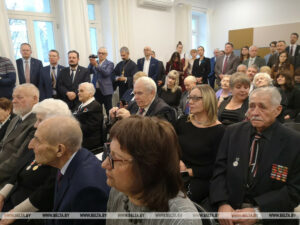 For more than twenty years, Mr. Kravchinsky has been actively involved in educating youth and young adults about the Holocaust. He meets regularly with
schoolchildren through a program called "Memory Lessons," speaks to groups of students from different countries, and accompanies visitors for tours of the former Minsk ghetto. Mr. Kravchinsky also actively contributes to the revival of Jewish life in Minsk through organized courses "Secrets of the Jewish Cuisine" he holds in his apartment for the young people of Beit Simha.
Upon receiving the award, Mr. Kravchinsky noted: "Remembering that time is not easy and painful. But this must be done so that people remember, and that such tragedies are no longer repeated. "
The award ceremony was attended by Rabbi Grisha Abramovich of the Religious Union for Progressive Judaism in the Republic of Belarus and its Executive Director, Michael Kemerov.