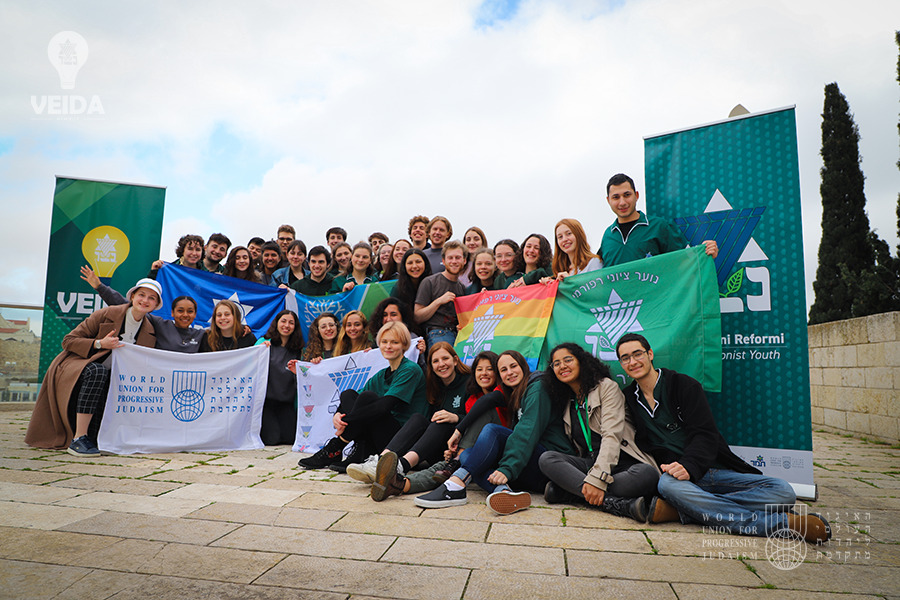 Veida Olamit, the global summit of Netzer leadership, took place on January 28 – February 2 at Beit Shmuel in Jerusalem. The Veida is convened annually for the leaders of Netzer snifim (branches) to network, explore Israel, study Jewish text together, share best practices, celebrate Shabbat and make important decisions for the movement.
Forty participants from 15 countries were in attendance, representing most of the Netzer snifim (branches)– Russia, Ukraine, and Belarus, North America (NFTY), Brazil (Avanhandava and Colônia da CIP), Costa Rica, France, Germany, UK (RSY and LJY), Holland, South Africa, Israel and Australia. Two participants, from Spain and Canada, joined as "observers" looking to gain insight and advice about building possible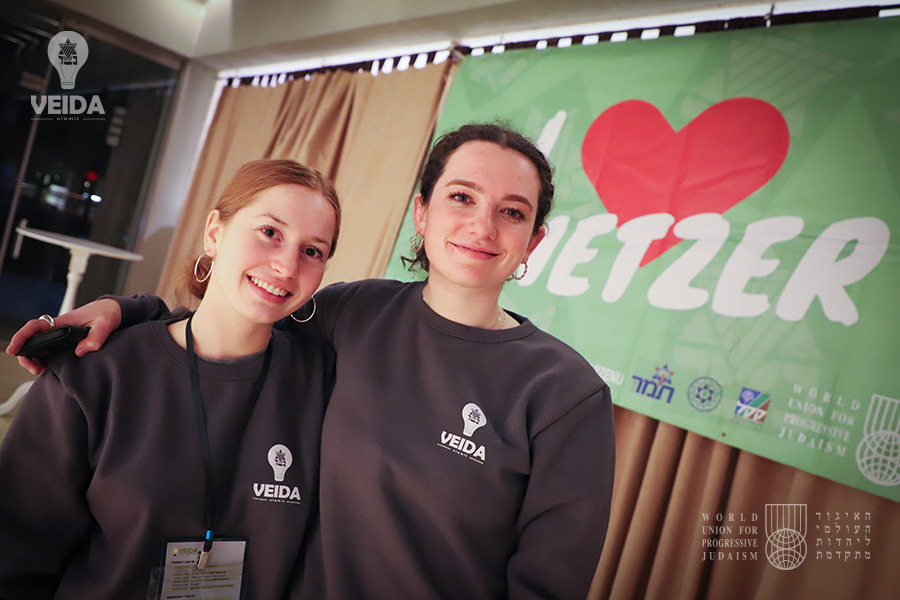 Netzer branches in their countries.
This year's theme was Netzer – Past, Present and Future – with five-days of workshops, discussions, site visits and meet ups with Netzer graduates who have moved to Israel and other new immigrants to Israel who are working with organizations whose missions align with Netzer's ideology and Progressive Judaism.
In their own words, participants shared the following reflections on their participation in Veida:
"The ability to come together as one movement to share our challenges and successes, as unique branches of the Progressive Jewish world, is always an amazing opportunity to learn from and be inspired by one another and could not be made possible without all of our global staff, partners and supporters. This Veida was no doubt an amazing experience for everyone involved.
I am certainly walking away feeling inspired and ready to work hard to make our dreams come true as individual sniffim, as well as a united global movement that is active in Progressive Jewish communities, to be a light unto the nations and leave our mark on the world. La'asok B'tzorchei Tzibur!" – Rachael Sara, Netzer South Africa
"Veida reminded me that this is exactly where I'm meant to be. I'm so grateful for Netzer Olamit for allowing me to find my greatest self amongst this beautiful community. It's coming to the end of my time in Netzer. With only sixth months left it was a beautiful time to sit and reflect and observe the unbelievably capable hands the sniffim are in." – Fran Kurlansky, LJY-Netzer
"The Veida was a special opportunity for me to meet Netzer members from all over the globe, get to know each and every branches' values and share Noar Telems' as well. It was lovely, seeing so many different people get together and connect over this movement, sit and sing like they're old friends. I've taken many things from the discussions in the Veida, from the importance of Aaliya to Jews in the Diaspora, to the true meaning of Zionism. Ways to act on Tikkun Olam, make change happen." – Hagar Levi-Dotan, Noar Telem, Israel
"This Veida made me feel my attachment to Israel ♥ ." – Mascha Sulyma, Netzer Ukraine
"Thanks a lot for this amazing journey it was unforgettable and very interesting!! For me, I enjoyed a lot all the guest speakers and how they open my mind about Zionism problems for exemple. To be among people's from all around the world was the best part of it because we can share our experiences and see how we can improve netzer. But if I can say one regrets It's maybe the lack of ideological discussion in the asephas it was maybe to much of protocol discussions. Thanks again for this incredible week. Kiss from Paris." – Amos Tiné, Netzer France
"I loved going to veida this year – it was such a unique opportunity to explore my Zionism further and develop hadracha skills from other sniffim. It was so energising to experience being part of a greater movement and exciting to return back to my sniff new ideas and experiences. Thank you for having me!"- Bella Nathanson-Tanner, RSY-Netzer (UK) and current Shnat Netzer participant
"There are very few international contexts where you can feel as comfortable as on Veida. Every person in every snif really is part of something enormously important!" – Moritz Meier, Netzer Germany
---
Veida Olamit is grateful for the critical support of its sponsors:
ARZENU, World Zionist Organization, KKL-JNF, and the World Union for Progressive Judaism.
To join our efforts in engaging youth and young adult leadership around the world,

give today

.