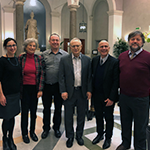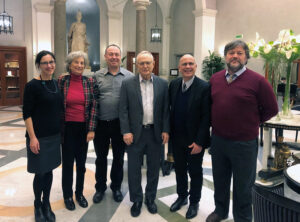 On January 14th, Rabbi David Saperstein, President of the World Union, met in Rome representatives of the Italian Federation for Progressive Judaism (FIEP) and of Beth Hillel, the progressive community in the city.
During the meeting Rabbi Saperstein was updated on the latest developments of the Italian Federation and its challenges and opportunities. It was a great occasion to exchange thoughts on strategies and future plans to strengthen the presence of Progressive Judaism in Italy.
This was the second official visit of the World Union to Italy in the last two years. In 2019 a delegation headed by its Chair Carole Sterling visited Rome in occasion of Beth Hillel's 5th anniversary.
In Rome Rabbi Saperstein also participated in the launch of the Abrahamic Faiths Initiative, a dialogue led and organized by religious leaders of three Abrahamic faith traditions, Judaism, Christianity, and Islam, working together to emphasize the peaceful expression of faith and the renunciation of violence. During the event – which was facilitated by the US Department of State – he co-hosted a conference for 23 prominent leaders.