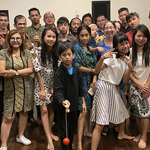 Rabbi David Kunin, chair of the Council of Australian, New Zealander and Asian Progressive Rabbis, shares his impressions of the first Shabbat he spent with the Jewish Community of Jakarta, Indonesia.
---
Back to Jakarta

It is exciting to be back here in Jakarta for the fourth time. I cannot say that it is my favorite city, but I can say that it is one of my favorite Jewish communities. Jakarta is a city where nothing moves fast. The trip from the airport to hotel is always a matter of hours not minutes, and even a very short drive of a few kilometers takes a surprisingly long time. Traffic rules, car lanes and traffic lights are optional, and only seem symbolic. No one seems to observe them. A two-lane road will have four lanes of cars, along with scooters and motorcycles forming additional lanes, and crossing an intersection is a matter of faith. You inch across the road. Drive your car between the other cars waiting to go the other direction and hope and pray that no one hits you (this time rabbi Ben was not so lucky and received a dent from a very unapologetic truck driver). Don't plan on getting anywhere quickly is the best advice for anyone visiting this very busy and overcrowded city.
Jakarta is truly a city that seems never to sleep. It is not only the late night and early morning calls to worship from the many mosques, but it is also the many food stands filled with customers,some in western clothing and others in the traditional sarong, at all hours. I have been told (though we have never sampled them) that these are the places to find the best and most authentic Indonesian food if you are so inclined. Even tonight with its thunderstorm and downpour of rain, stalls and booths stayed open, and people were calmly eating under the shelter of tents.
Jakarta is also a city of extremes. Cheek by jowl you find high-end malls along with tall fancy apartment blocks fairly close to shacks, slums and shanty towns of extreme poverty. The wealth disparity here seems extreme. You get the feeling in Jakarta that it is a city of both opportunity and despair.
Once in the Jakarta synagogue of the Indonesian United Jewish Community, however, you only experience a feeling of hope and rebirth. There is always an enthusiasm and infectious sense of commitment to our shared heritage that can make even the most jaded smile. When you step through the door to the third-floor shul, you feel an immediate sense of warmth and welcome, that can only make one feel at home.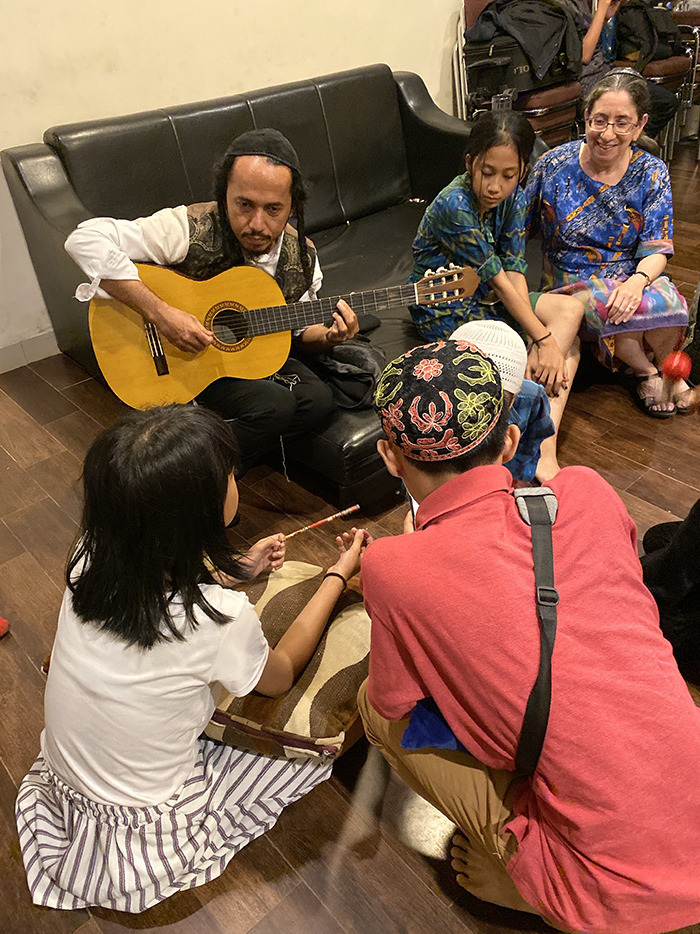 After three visits it was wonderful to see all the familiar faces, especially of the young people that we have seen grow up over the five years since our first visit. Children who ran around under their parents' legs, now proudly wear small tallitot, and loudly sing the tefilot (the prayers) in perfect Hebrew. This week and next we celebrate the bar and bat mitzvahs of many of the children who in past years we welcomed to our people. They will chant from the two Torah scrolls (from Edmonton, Alberta and New Castle, Pennsylvania) that came to Indonesia during our last visit. They will now be adults who will join with their parents in creating the Indonesian community of the future. We also celebrated the aufruf of a young couple who we will be lucky enough to join in marriage on Sunday. This will be one of the first Jewish weddings in Indonesia for many years. They too are the future of the Indonesian community.
It was also a pleasure to meet the new people (some of whom we welcomed to our people during our Beit Din on Friday) who have joined the community since our last visit. They also bring enthusiasm and interesting new questions to community discussions. Talking with them and listening to their stories is always a fulfilling experience. Their (along with all the members of the UIJC) commitment to Jewish life is unmatched by nearly any other Jewish community I have experienced. I think our communities in Asia, Australia and New Zealand (and also throughout the world) have a lot to learn from Indonesia's Jews.
I always find a sense of peace on Shabbat and interestingly this is especially so here in busy and noisy (at all hours) Jakarta. For me there was a spiritedness and spirituality all through Shabbat that was very powerful. Prayer was full of kavanah (intention), and the singing, as always here, was beautiful and enthusiastic. Rabbi Shoshana and I worried when we realized there were only a few Siddurim for Kabbalat Shabbat, and we were unsure what to think when Rabbi Ben told us not to worry. We quickly learned however that nearly everyone younger and older knew the prayers and sang them enthusiastically. For us the only challenge was to keep up with some of the subtle changes that have been adopted into the music of familiar prayers and songs. It was also touching and amusing when a tune was chosen with the introduction "the Tokyo" tune, or as "the Adelaide" tune. From Kabbalat Shabbat to Shachrit, Maariv and ending with Havdalah, Shabbat was a prayer experience not to be matched nearly anywhere in the world.
What would Shabbat be without food? Our trips to Indonesia are always culinarily spicy treats and so far, this one is no exception. For Shabbat dinner we had delicious fried tempe, but the highlight was a stuffed fried tofu called Tohu Bunting (recipe below). Over Shabbat we also enjoyed Chinese style whole fish, fried bananas and a vegetable dish called jengkol which had an interesting taste but also had a mixed reputation. There also were beautiful challot. All the food was made by congregation members and was absolutely delicious. Sunday night marks the beginning of Hanukah and it is my belief that the Tohu Bunting would make a worthy addition to the other traditional oily foods of the holiday.
I must say that I am always impressed by my colleague Rabbi Shoshana Kaminsky. While her wisdom and pragmatic understanding of Torah is always inspirational, her language skills are beyond belief. Each trip her comfort with Bahasa Indonesian seems to grow exponentially. I know that our friends here in Indonesia appreciate her ability to communicate both in English and Indonesian. Shelley and I bring other skills, but our Indonesian remains a very few words and phrases.
Rabbi Ben Verbrugge, the leader of the Indonesian community, has enormous energy. The community is really his creation, and the knowledge base of its members has been largely created through his work, both in person and over the web. He travels across Indonesia visiting all his widespread communities, sharing his warmth and commitment. It is therefore especially gratifying this trip that we can celebrate multiple simcha's with his family. Today we celebrated the Bat Mitzvah of his eldest daughter Rebecca, on Sunday the marriage of his son Karel to Junita, and next week his younger daughter Devorah will also celebrate her Bat Mitzvah. May the entire family go from strength to strength and be filled with much nachas.
---
Originally published in Lost in Translation: A North American Rabbi in Tokyo.