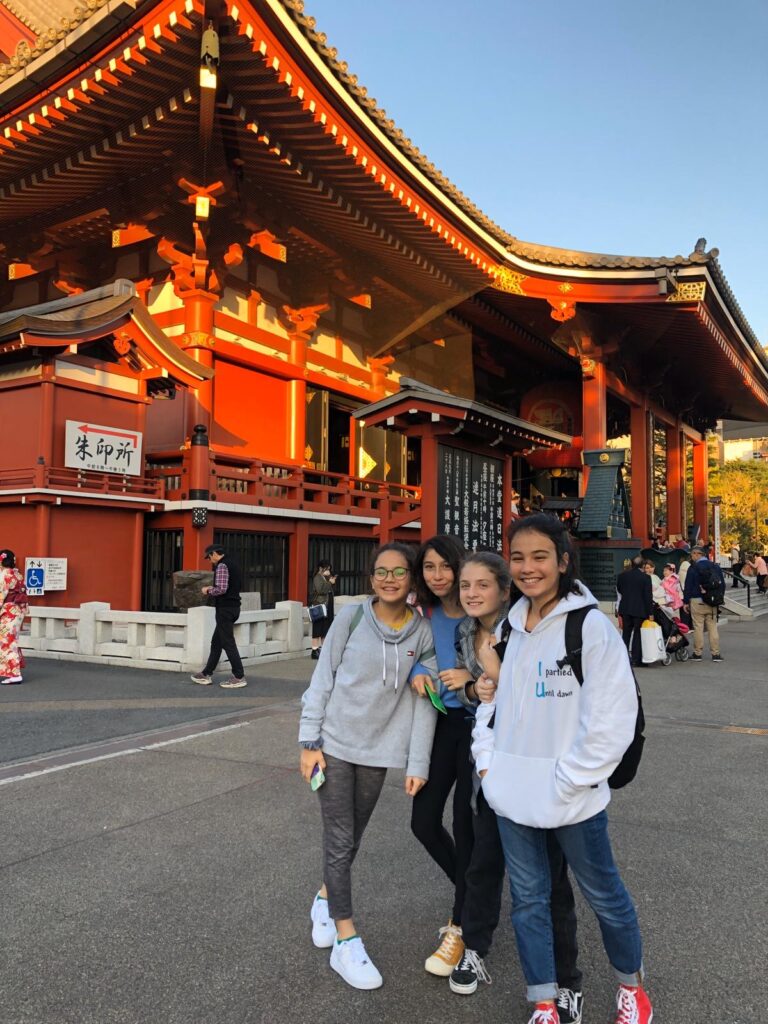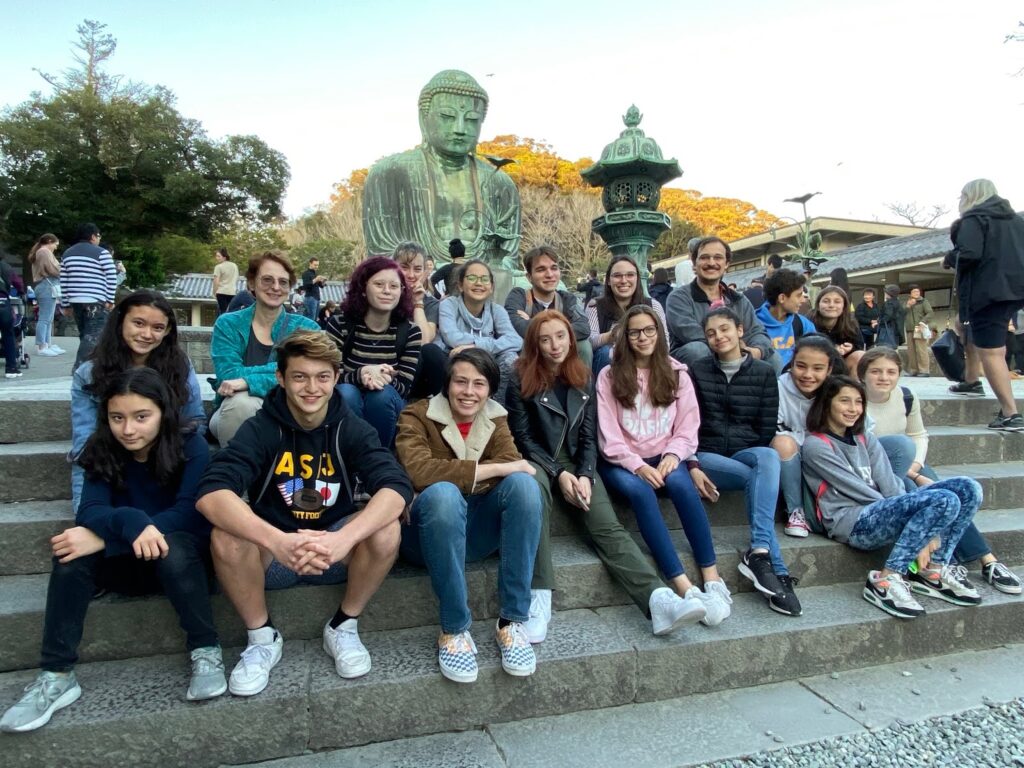 The Jewish Community in Tokyo (JCJ) was excited to host the November teen shabbaton of Asian Progressive Judaism (The Asian Congregations of the UPJ of Australia, New Zealand and Asia). Eighteen young people (plus their young feeling chaperones) from Beijing, Hong Kong, Hiroshima, Shanghai and Tokyo came together to celebrate and experience both Tokyo and the diversity of teen Jewish life in Asia. Gastronomic diversity was also a lucky by-product of the visit.
While some of the teens were disappointed that Harajuku was not on the schedule, everyone enjoyed visits to Asakusa and Kamakura. Melon bread, especially stuffed with matcha ice cream, and omikuji (good and bad fortunes) were highlights of the visit to the Asakusa Sensoji Buddhist Temple precinct. While everyone enjoyed the melon bread – ice cream or not – only a few were satisfied with our fortunes, even if they were not the best. Others, less happy, folded their omikuji and tied them on provided wires, allowing the bad luck to fly away with the wind. In Kamakura (the ancient Samurai capitol of Japan), while everyone agreed that the Daibutsu (Giant Buddha) was "dope" (one of our teen's expression for cool), the highlights truly were Havdalah on the beach despite mechanical (wind) issues with candle and matches, and shopping and dinner on the Shotengai (shopping street) on Saturday evening.
As a closing program, teens and post-teens shared their best experiences during the weekend, and some of the answers were a bit surprising. Nearly everyone mentioned how much they appreciated spending time with old and new friends and creating new relationships – not unexpected answers. It was surprising, however, how many of the teens enjoyed late night study time as they prepared for next week's school assignments. Apparently, the very late-night discussions after study covered the gamut of topics, even the complexities of being a Jewish teen in Asia.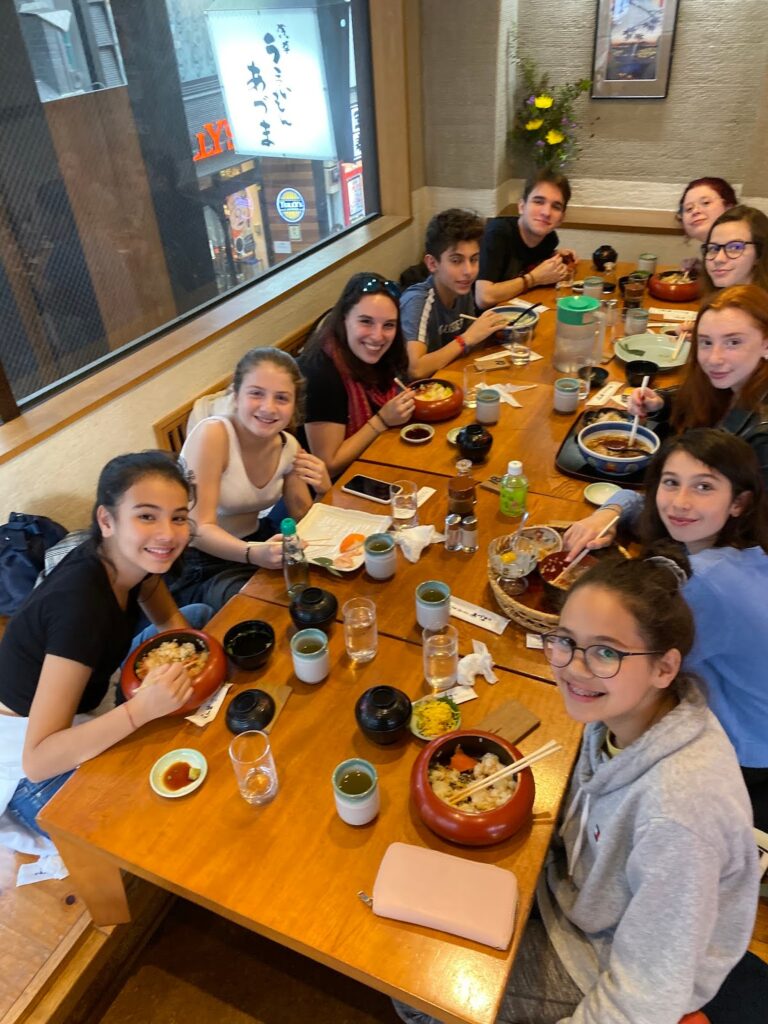 Tokyo is a gastronomic paradise, with every kind of cuisine not only available, but also improved. Italian food is better than in Rome, Mexican food better than in Mexico City and even Japanese food is better here than anywhere else. Indeed, many have pointed to the challah, made at the JCJ for over forty years by octogenarian Izeki-san, as some of the best in the world. Our Shabbaton fell on the JCJ's first International Shabbat of the year, so we were lucky enough to enjoy an authentic Hungarian menu featuring Chicken Paprikash, galuska dumplings, cabbage noodles and apple strudel (all Kunin family favorites). Join us next month for a gourmet Indian dinner. On their own in Kamakura, teens enjoyed sushi, udon, vegetable tempura, and kakigori (shaved ice). A few teens even braved the most Japanese of Kamakura's restaurants マクドナルド(McDonald's). Our breakfasts were more mundane as we did not offer natto, an interestingly textured (to many non-Japanese inedible) Japanese staple, but bagels and lox, which were specially flown in (via an international supermarket) straight from New York.

As always, our Shabbaton was a mix of the old and familiar to the new and exciting. Shabbat services at the JCJ tied us to our ancient tradition. Led by David and Lea (two of Tokyo's teens) they were an expression of the Masorti minhag (customs) of the JCJ, yet they were also made new and exciting by the melodies and musical talent of Dan Kohane, the cantorial soloist from Banai Hof, the APJ Kehila (community) in Bali. Shabbat ended with Havdalah by the ocean. Sung with the Debbie Friedman melody all of us (more or less) shared, we all felt united as we said farewell to Shabbat.




Asian Progressive Judaism (APJ) holds two teen shabbatons over the course of the year. Look out for our next one this spring (dates yet to be determined). We also have an annual summit for the lay and professional leaders of Jewish communities across Asia. This year our Asian Summit will be held in Tokyo at the Jewish Community of Japan on April 23-25, 2020. For more information on any of our programs contact your local Asian community leader, or Rabbi David Kunin.

We would like to thank the board, members and staff of the Jewish Community of Japan for their hospitality and logistical support. We would also like to thank the Joint Distribution Committee (JDC), Camps Airy and Louise, and the Assembly of Australian, New Zealand and Asian Rabbis and Cantors for their help in making this program possible.

About the author:

Rabbi David A. Kunin serves the Jewish Community of Japan and is Chair of the Council of Australian, New Zealand and Asian Progressive Rabbis.