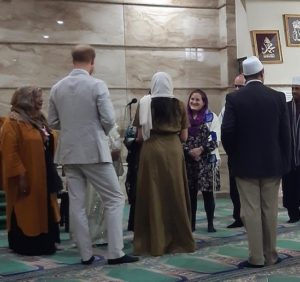 Rabbis Malcolm Matitiani and Emma Gottlieb, from Temple Israel in Cape Town, were invited to greet the Duke & Duchess of Sussex on their visit to the Auwal Mosque in Bo-Kapp on September 24.
Meghan Markle and Prince Harry met with interfaith leaders and youth participating in a program through Cape Town Interfaith Initiative. Temple Israel Youth Director, Rachael Bootcov, was one of the participants.
Rabbis Emma and Malcom welcomed the Duke and Duchess and thanked them for taking the time to meet with the group and learn more about their efforts.
"The Duchess asked about the Jewish community of Cape Town and expressed appreciation for the beautiful rituals of the Jewish faith. They allowed us to offer a blessing (the Shechechiyanu) for the occasion and were friendly, warm, and generally lovely. We wished them continued safety and inspiration in their travels," said Rabbi Emma.