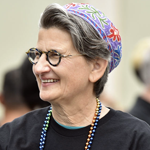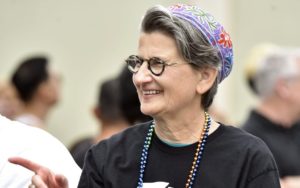 "My first inkling of wanting to be a rabbi was a rebellion."
Lisa Edwards' drive to break through barriers lead her through a successful career as a pioneering woman and openly gay rabbi for the last 25 years. On the eve of her retirement as senior rabbi of the world's first primarily LGBT congregation, Beth Chayim Chadashim in Los Angeles, Edwards spoke with the World Union about her life, career and issues facing the Progressive Jewish world.
Edwards recalled her young realization that women could not yet be rabbis as a surprise. "What do you mean women can't be rabbis? I'll show them," she joked.
Raised in the American Reform movement in the Chicago suburbs, Edwards came from a family of rabbis. She graduated with a B.A. from the Ivy League Brown University and got master's degree from the prestigious University of Chicago. Her most transformative years came in the unlikely place of Iowa, the Midwestern state known for its cornfields, where she got her PhD in English Literature from the University of Iowa.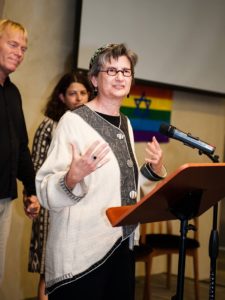 "[Iowa City] was the first place I lived where I really knew Jews were a minority," Edwards said. "It wasn't about Antisemitism, it was just about people not knowing, and I felt a real responsibility to be more Jewish and to teach Jewish writers more than I would have."
It was in Iowa that Edwards' rebellious young spark to become a rabbi reignited. She also came out as lesbian and fell in love with Tracy Moore, a fellow academic at the university. Now married, the two have been together for 33 years.
In 1990, the Central Conference of American Rabbis (CCAR) endorsed a statement proclaiming the equality of rabbis and of all Jews regardless of sexual orientation, supporting the reformed admission policy of Hebrew Union College-Jewish Institute of Religion. Against the odds, Edwards began her rabbinical study at Hebrew Union College (HUC) in 1986, four years before the CCAR's statement. She noted that during her time at HUC, especially the year she spent at the Jerusalem campus, the makeup of rabbinic students underwent monumental change.
"Besides having three openly lesbians in it, our class in Jerusalem was the first that had equal numbers of men and women," Edwards said. That was really a turning point in a lot of ways."
Upon her ordination in 1994, prejudice and stigma still remained as Edwards struggled in her job search. Not only was she an openly lesbian woman, she was also older than most of her rabbinic classmates and noted facing ageism. Near the end of her search, a position at Beth Chayim Chadashim opened and she landed her dream job as a rabbi at an LGBT congregation.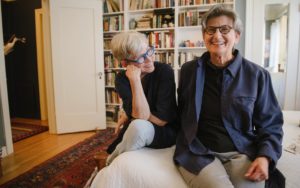 "I didn't know that there were already gay and lesbian synagogues," Edwards said. "That was really what I had in my mind when I started applying to (rabbinical) school, so I was delighted to discover yet another wheel I didn't have to invent; I didn't have to be the first woman rabbi, I didn't have to create a gay and lesbian synagogue—they already existed."
I talked with Edwards about intra-group tensions in Israel between the ultra-Orthodox and more secular and liberal Jews. As a Jewish state, the rabbinate, controlled by the ultra-Orthodox, dictates the practice of life cycle events, including weddings, divorces, and burial. The rabbinate also controls Israel's Jewish religious sites, such as the strictly Orthodox and gender-separated Western Wall in Jerusalem. Offering a bit of rabbinic wisdom, Edwards said that people often operate out of fear in response to those different from them.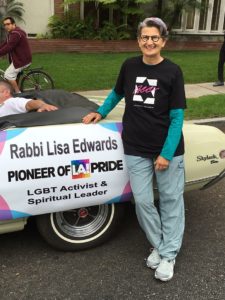 "People have impressions of other people and what other people's lives are like that may or may not, and probably don't much resemble what other people's lives really are like, what other people's beliefs really are," Edwards said. "People feel threatened by people who are not like them."
She went on to speak about the way she sees the ultra-Orthodox feel threatened by Progressive and liberal Jewish practice.
"They understand [Judaism] in a different way; we're changing their religion. If you're just ignoring it, you can still go on do your religion they way you want it, and if you're lucky, nobody cares," Edwards said. "But here we are, calling it Judaism, understanding it differently, making different choices than they are. It can be really threatening."
In October 2018, 11 people died tragically in the mass shooting of the Tree of Life synagogue in Pittsburg, Pennsylvania. Edwards recognizes the uniquely large target her congregation is, as both a Jewish and an LGBT space. In talking about recent threats and attacks on Jewish spaces, Edwards spoke of recent protest outside her congregation by a Christian-affiliated group holding signs with homophobic slurs, which took a positive turn.
"The next week, some friends of ours from a Cristian community stood outside and welcomed everybody when we arrived and had these really loving, rainbow signs," Edwards said. "But there's no doubt that it's a nervous time in the world and in the United States at the moment within Jewish communities."
Throughout our conversation, Edwards continually offered positive outlook on tragedy, tension, and fear. She spoke fondly of the way the pluralistic Jewish community in Los Angeles came together in a vigil after the Pittsburg synagogue shooting.
"When those good things come out of those horrific things, it's a good reminder of who we really are and the world we really envision, trying to make the world we envision into the world that really exists," Edwards said.
As she embarks on a new chapter of life as Rabbi Emerita, Edwards has no plans to retire her involvement in political activism. While she chose not to take on formal projects in the coming year, she decided somewhat intentionally to step away from her work as a rabbi during a critical time for US politics.
"This year being an election year; it wasn't entirely a coincidence that I wanted to step away," Edwards said. "Trying to change things that are happening here and who's elected here—I'll be doing some of those things, not specifically as a rabbi, but as a citizen of the United States."
About the author: Kirby Goodman was a summer intern with the World Union in Jerusalem through Onward Israel. Originally from Minneapolis, Minnesota, she is a rising sophomore at Colgate University in Upstate New York, hoping to pursue a career in journalism after graduation.
---
The views and opinions expressed in this article are those of the author(s) and do not necessarily reflect the official policy or position of the World Union for Progressive Judaism (WUPJ).