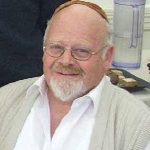 It is with sadness that World Union shares the news of the passing of Rabbi Charles Wallach Z"L in Hove, Sussex (UK) on August 23.
Rabbi Charles Wallach was born in Johannesburg, South Africa. A graduate of Leo Baeck College, in a career of over 40 years he has served communities in South Africa, Australia, Israel and United Kingdom. Former member of the National Religious Leaders Forum of South Africa which was set up by Nelson Mandela, Rabbi Wallach had his own program on South African radio and scripted and presented the first ever Jewish religious service on both British and Australian television. He also held various senior roles within the South Africa Union for Progressive Judaism (SAUPJ), South African Association of Progressive Rabbis (SAAPR), and the South African Zionist Federation.
Our condolences go out to his wife Marilyn, and their daughters and grandchildren.
May his memory continue to bless us all.