We are pleased to welcome Beit Luria to the Word Union family and congratulate the South African Union for Progressive Judaism (SAUPJ) on their 11th member congregation.
Beit Luria started its journey in 2016 when many members of the local community had indicated that they were looking for an alternative service and many felt that it was time for a synagogue to be led by a female Rabbi in Johannesburg.
From Kabalat Shabbat services to weddings, Bar/Bat Mitzvahs, baby namings, study discussions, and more, Rabbi Julia Margolis's home – the first home of Beit Luria – simply couldn't accommodate the large number of people. So, the community decided to look for a bigger venue and found a beautiful and tranquil clubhouse in the Willows Estate.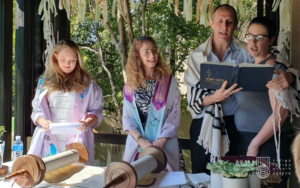 The community currently holds two Friday evening services each month, with an additional Shabbat Shacharit (morning) service.
The number of congregants has been slowly and steadily increasing over the past year, currently counting 40-50 individual members, and close to 25 members at each service.
"We look forward to our journey together with SAUPJ and WUPJ to advance and promote the traditions and values of Progressive Judaism within our community and by extension our country and the worldwide movement," celebrates Rabbi Julia Margolis.
Please join us in wishing Beit Luria, and the SAUPJ, much strength and continued growth on this exciting journey.
For more information about Beit Luria, please email them at: info@beitluria.co.za or visit their website: beitluria.org