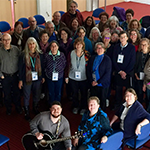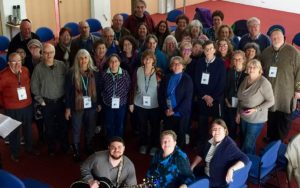 The fourth Union for Progressive Judaism music conference – Shir Chadash (A New Song) – was held on 12-14 July at Geelong Conference Centre, west of Melbourne.
About 30 participants attended the conference edition, titled "Giving Liturgy a New Voice". The event included sessions on music strategies to use the new machzor, Mishkan T'shuvah, choral and song-leading workshops, vocal and guitar coaching, as well as the interplay between niggun and mystical texts.
Cantor Michel Laloum and songleader Ari Sharfstein, from Temple Beth Israel; Judy Campbell, from North Shore Temple Emanuel; and Cantor George Mordecai and Andrea Catzel, from Emanuel Synagogue – among other talented individuals in the region – were part of Shir Chadash faculty this year.
Click here to watch the videos of the conference highlights on the UPJ Facebook page.