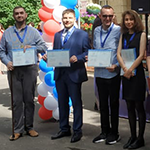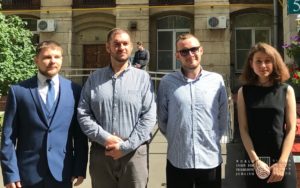 In a grand ceremony, with thousands in attendance, the first graduates of the Institute for Modern Jewish Studies – Dan Menzhynov, Artem Kozliner, Shimon Nikitenko and Daria Sevastsyanchyk – received their bachelor's degrees in Jewish Theology from the Russian State University for Humanities in Moscow.
The Institute for Modern Jewish Studies is a partnership of the World Union for Progressive Judaism, Abraham Geiger College, Russian State University of the Humanities (RSUH), and Pottsdam University. Its goal is to train Russian-speaking rabbis to serve the growing Progressive community across Russia, Ukraine and Belarus. The four-year BA degree program at RSUH Institute in Philology and Jewish Theology specializes in "Art and Humanities with a specialization in Jewish Theology".
Students recognized as having potential to continue toward rabbinic studies are jointly guided by the Institute for Modern Jewish Studies and the Abraham Geiger College, after their successful application at both Institutions, to continue onto rabbinical training programs. From this first cohort, two students have been accepted, and expressed interest, in pursuing rabbinic studies and training. The other two will focus on Jewish educational and congregational work in the region.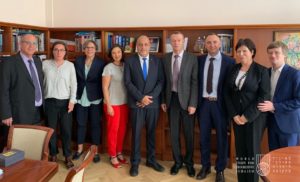 To read the congratulatory greetings from Eyal Ronder, WUPJ Vice President of Operations, click here.




Read more about the event on the Abraham Geiger College Facebook page.