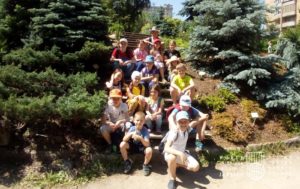 The Meodomik Integration program operates year round activities for children with special needs and their families, integrating social, cultural and recreational programs based in the Moscow Jewish Community Center, MEOD. Irina Sherban, Chair of the Russian Union for Progressive Judaism (RUCPJ), directs MEOD. It is home (Domik in Russian) to various Jewish congregations, including the Progressive congregation, Hadash.
The center opened its Meodomika Summer Day Camp in early June, bringing together children with and without special needs and their families for a week of activities, tours, workshops and other programming.
The camp's theme, "Heading Outdoors," highlighted outdoor games and hikes, day trips, and therapeutic art activities. 48 children, ages 6 to 14 years, participated in this year's program, 15 of whom have special needs
The camp is designed to allow children with disabilities to experience a joyful summer with their peers and their families. Workshops focus on building social skills among both normative and special needs children, and introducing all of them to new, creative ways to engage with Judaism. Tolerance for others and inclusivity are principal aims of the experience.
Excursions to the zoo and planetarium allowed families to visit public sites with their special needs children, something that is not always easy for them to manage. Some participants and their families visited historic sites in Moscow, while other workshops painted challah covers for Shabbat and working in the carpentry and pottery studios. Additional animal therapy sessions were offered to children with disabilities.
As one parent noted, "It is so meaningful for us to be able to experience these trips and activities together. I am grateful to the organizers and supporters for making this happen, not only for my child, but for us, the parents as well."
Because the camp took place around the Jewish holiday of Shavuot, campers and their families explored the meaning of the holiday through formal and non-formal study sessions and discussions.
Meodomika is grateful for the support of the World Union of Progressive Judaism for this transformative program, and to Rita Fruman, Director of FSU Operations at the WUPJ, for her leadership in making Meodomika so impactful.
"My son enjoyed Meodomika so much. The friends he made were amazing for him, and the staff he learned from were both attentive and caring. They deserve a lot of praise for the work they do. We really enjoyed the excursions together and spending time outside.
About he author: Kirby Goodman is interning with the World Union this summer through Onwards Israel, gaining professional experience in journalism and research into global issues facing our movement.