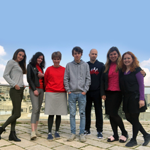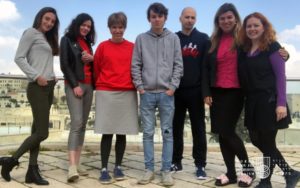 Participants of the World Union for Progressive Judaism's annual Masa Russian-language program, "Reformism as your personal and professional future," recently celebrated the completion of their four month Israel program in Jerusalem.
The six participants taught Hebrew in the Morasha Ulpan, a language school in Jerusalem. They attended lectures, studying the history of the Jewish people, Israeli actualities and Progressive Judaism. Students visited the museums of Jerusalem, attended city festivals and cultural events as well as a variety of excursions throughout the country, from the Judean Desert to the busy streets of Tel Aviv.
The program culminated in a trip to the north of Israel where they toured Beit Shean, one of the country's oldest cities and read the inscription, "if heaven is in the land of Israel, then Beit Shean is its gate." They saw the natural beauty of the waterfalls in Gan HaShlosha (Sahne) National Park, and the wildlife of Gan Guru, an Australian Kangaroo Park and nature reserve in Israel. Participants also explored the Circassian village of Kfar Kama, home to 3000 Circassians to learn about their language, tradition and culture.
This capstone trip provided a reflective and positive ending to the program.
The Russian Masa program has been running for more than 14 years as an integral part of the work of the World Union of Progressive Judaism efforts for Russian-speaking Jews across Belarus, Ukraine, and Russia.
About the author: Kirby Goodman is interning with the World Union this summer through Onwards Israel, gaining professional experience in journalism and research into global issues facing our movement.