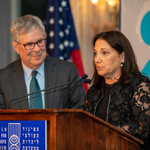 On Wednesday eve, May 29, the World Union for Progressive Judaism welcomed guests from the UK, Israel, Europe and South Africa to its annual International Humanitarian Award Dinner honoring visionary global Jewish leaders and advocates Dee and Leslie Bergman and Marion and Stanley Bergman.
The gala dinner featured a keynote address by Ambassador Danny Danon, Permanent Representative of Israel to the United Nations. And a musical performance by Zalmen Mlotek of Fiddler on the Roof from the current Broadway production in Yiddish. David Harris CEO of American Jewish Committee and Rabbi David Saperstein also spoke and presented an award. Rabbi Daniel H. Freelander, President of the World Union, closed the ceremony noting how Reform Jewish values and vision strengthen our global movement and draw upon our past as we move toward the future.
The photographs of the gala event are courtesy of Dale Lazar.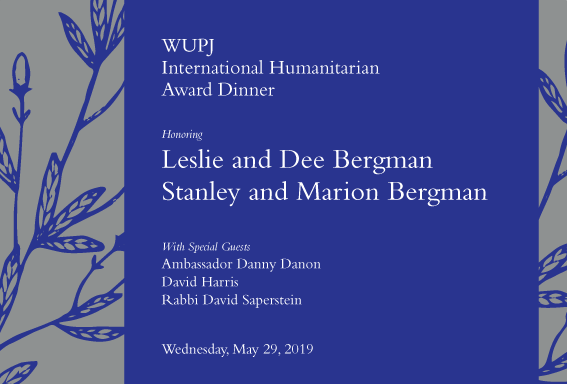 Click the image above to read the Gala Journal from
the event with greetings from sponsors and partners.
Learn more about our honorees, with insight from Rabbi Richard (Dick) Hirsch, Honorary Lifetime President of the World Union, and read their inspiring story below.
The story of the Bergman family is also the story of the World Union for Progressive Judaism (WUPJ). It is the story of an immigrant journey that began as a flight from Nazi Germany, reaching South Africa and eventually extending to Austria, Germany, the UK, Brazil, China, Iran, and the U.S. The Bergman family story is one of passionate commitment to progressive ideals, advancing justice around the world, and to strengthening Jewish life, wherever Jews choose to live. The annual WUPJ Bergman Seminar for Jewish Education in Jerusalem has transformed the Jewish lives of dozens of teachers and thousands of students.
Extraordinary integrity and quiet generosity characterize Leslie and Dee Bergman, passionate advocates for Progressive Judaism. Leslie has played a pivotal role in the leadership of WUPJ, serving as its Vice-Chairman, and as Life President of the European Union for Progressive Judaism. He held senior positions in the Progressive movement in South Africa, including chairman of his congregation in Johannesburg, and president of the region. Leslie is a Senior Patron of the Institute for the History of the Jews in Austria and a Senator of Abraham Geiger College. He led the international consulting firm Accenture, including during difficult days in Apartheid South Africa. Dee has served on the boards of West London Synagogue, Leo Baeck College and Jewish Childs' Day. Devoted to raising their three teenagers, Dee also promotes reading skills for children from disadvantaged backgrounds in London and South Africa. Dee is a management consultant whose career included a long tenure at Accenture, where she was a Senior Partner.
Stanley and Marion Bergman are deeply committed to philanthropic causes and cultural diversity. Chairman of the Board and CEO of Henry Schein Inc., Stanley was named "2017 CEO of the Year" by Chief Executive Magazine and has received the Ellis Island Medal of Honor. He was President of the AJC, Co-Founder along with Marion of AJC's Africa Institute, and is Co-Chair of the Muslim-Jewish Advisory Council. Stanley is the Co-Founder of the India-Israel Forum, serves on the board of several universities and has received numerous honorary doctorates. Marion trained as a physician in South Africa and is a mentor to and supporter of international medical students and health care professionals from underprivileged backgrounds. She is an advocate for rural health in the developing world and directs Global Healthcare projects for MCW Global. She serves on advisory boards of several universities and is a trustee of the Global Child Dental Fund and Physicians for Human Rights. Marion serves on the AJC Board of Governors and as a Vice President of American Jewish World Service.