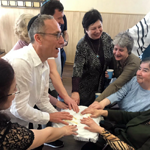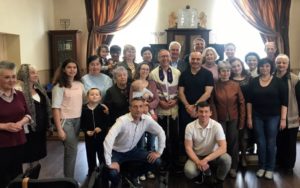 To support, connect and help develop the Progressive Judaism in Ukraine, a group of Northwood and Pinner Liberal Synagogue (UK) spent last Shabbat at the congregations of Lviv (Teiva) and Lutsk.
This was Rabbi Aaron Goldstein's third visit to Lviv, where is located the Teiva Congregation, which is twinned with NPLS. He had the opportunity to also visit Lutsk, where he lead the Shabbat Morning Service and spent a time with the congregants.
"It is so enriching for WUPJ congregations have twinning relationships. It is a win-win all round, and very quickly one gets the message that we are all part of the same family, wherever we live", said Rabbi Goldstein, who also believes that the British community will twin with Lutsk soon.