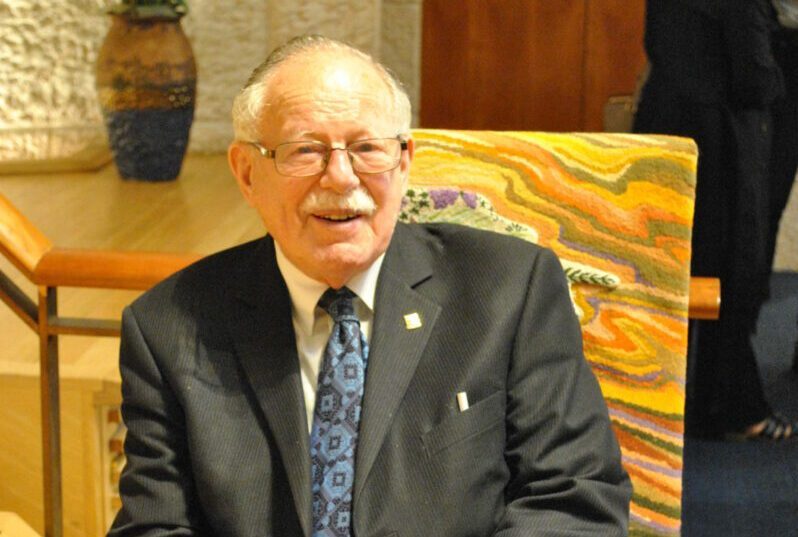 The World Union mourns the passing of Rabbi Harry Jacobi, a formative figure in the founding and growth of Liberal Judaism in the UK and Europe on April 24th, at the age of 93.
Having survived World War II hiding and fleeing across Northern Europe, Harry came to settle in Amsterdam with his Uncle, Louis Jacobi. Louis was an instrumental figure in the post-war rebirth of the Amsterdam Liberal Jewish Community. Through is uncle's work, Harry also became involved with the World Union for Progressive Judaism (WUPJ), starting with his attendance at the WUPJ conference in Amsterdam in 1949 as a delegate. It was there that Rabbi Jacobi first met Rabbi Leo Baeck and Lily Montague – the former calling for young men to rebuild Judaism across Europe and the latter, encouraging young Harry to pursue rabbinic training.
Harry also met his wife, Rose Solomon, who was then from Bombay, through a World Union pen-pal program. The two wed in North London Synagogue in 1957 and had three children – Richard, Margaret and David, all of whom were also became involved in Liberal Judaism in the UK.
As a rabbi, ordained in 1961, Harry served congregations in the UK before leading the Progressive Jewish Congregation in Zurich in 1982. Even after his 'retirement', Rabbi Jacobi continued to serve large congregations in the UK – also alongside his children Richard and Margaret who became Reform rabbis.
Rabbi Jacobi served on the Beit Din Rabbinic Board of Liberal Judaism for more than a decade and in public life, worked tirelessly to support refugees. In recognition of his contribution to the life of the Jewish community and to interfaith relations, Harry received an MBE in 2006.
Rose Jacobi passed away in 2014 and David Jacobi in 2017. Harry is survived by his children Margaret and her husband David Ehrlich, Richard and his wife Lyn and his grandchildren and great-grandchildren.
Rabbi Jacobi's incredible contribution to the growth of our movement after World War II and across the UK will never be forgotten. May his teachings and leadership continue to serve as a blessing and continue to inspire and educate rabbis and members of our global movement for decades.
Liberal Judaism in the UK is hosting a memorial campaign to remember and reflect upon the legacy of Rabbi Jacobi.  We invite you to read the tributes written by so many who knew and loved him, including the eulogy from Rabbi Dr Andrew Goldstein, President of Liberal Judaism and Rabbi Emeritus of Northwood and Pinner Liberal Synagogue.