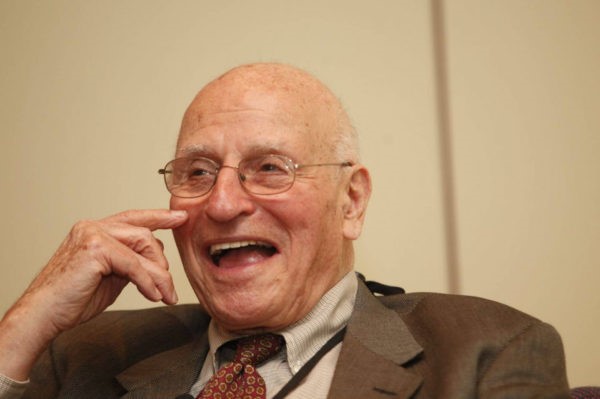 The World Union mourns the passing of Al Vorspan, former senior vice president of the of the Union of American Hebrew Congregations (UAHC), now Union for Reform Judaism (URJ) and director emeritus of the Commission on Social Action of Reform Judaism, on Saturday, February 16th, at the age of 95.
Vorspan, who worked tirelessly to found and strengthen the Religious Action Center of Reform Judaism in Washington, D.C., was one of the g'dolei hador, "great ones" of Jewish social justice work.
Vorspan shaped much of the social justice work of the Reform Jewish Movement. Beginning in 1953, he helped inspire the creation of congregational social action committees across North America, encouraging Reform Jewish synagogues to partner with their local communities in pursuit of tikkun olam. He played a pivotal role in founding the Religious Action Center of Reform Judaism, which remains the hub of the Reform Movement's social justice work in North America.
In 1963, Al was jailed with a group of Reform rabbis who responded to the Rev. Martin Luther King, Jr.'s call to join in the Civil Rights protests in St. Augustine, FL. Al would later write, "We came as Jews who remember the millions of faceless people who stood quietly, watching the smoke rise from Hitler's crematoria. We came because we know that, second only to silence, the greatest danger to man is loss of faith in man's capacity to act."
An early opponent of the Vietnam War, Al guided a UAHC resolution opposing the Vietnam war (making the then-UAHC the first major Jewish organization to do so). Al did not protest as a pacifist – he had fought in the U.S. Navy during World War II – but as one who believed that U.S. involvement in Vietnam constituted an unjust war.
For more articles on the legacy and impact Al leaves behind, read:
"Remembering Al Vospan, z"l: The Prophet Who Loved to Laugh," by Aron Hirt-Manheimer,ReformJudaism.org
"Al Vorspan, Jewish Leader for the Reform Movement, Dies at 95," by Marcy Oster/ JTA, Jerusalem Post
"URJ Mourns Al Vorspan, Social Justice Leader of Reform Jewish Movement," at URJ.org
Photo courtesy URJ