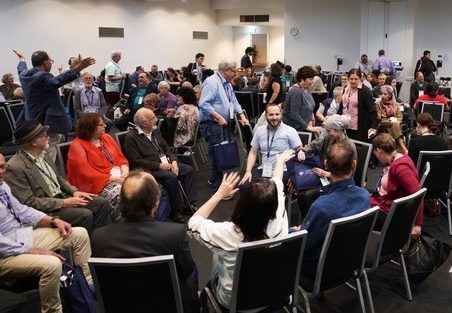 The UPJ Biennial, held in Melbourne, Australia on 15-18 November, hosted more than 220 attendees from around the UPJ region (which covers Australia, New Zealand and Asia), with additional representatives from the UK, Israel and the US.
The program, themed "Making Progress" and furthering the work begun at our previous Biennial with Dr Ron Wolfson, featured Rabbi Dr Lawrence A Hoffman as the scholar-in-residence. Rabbi Larry led inspiring plenary sessions titled "How We Pray is Who We Are: The Message of the Prayer Book" and "Returning Home: Mission Driven but Sh'ma Inspired", and workshops allowed participants to focus on specific interests and how they related to his presentations.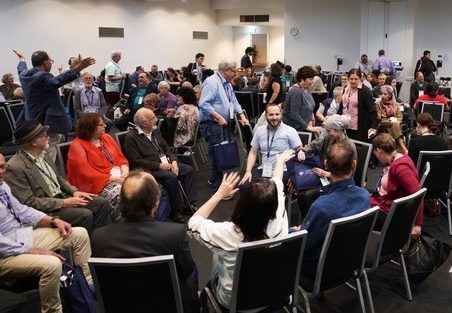 Panel discussions on "Israel as our Spiritual Homeland" and "Jewish Demography: Pathways, Bridges and Stumbling Blocks" with experts in their fields were also featured. WUPJ President Daniel Freelander generously shared his knowledge and music throughout the conference. The learning was extraordinary and was complimented by fun and festive social events, including an opening cocktail party and an aviation-themed Saturday night gala.
A "taster" for the UPJ's Shir Chadash Music Conference, to be held on 12-14 July 2019 in Geelong was offered by our talented Music Network, led by Cantor Michel Laloum and Judy Campbell, with special guest song leader Marshall Voit.
The Friday night Shabbat service and dinner were graciously hosted by Temple Beth Israel, and the weekend was capped off with participation in Mitzvah Day activities on Sunday afternoon.
We hope our WUPJ community will save the date for our next Biennial to be held on 5-8 November 2020 in Sydney – we'd love to see you there!
Click here to view more from the event on the UPJ website, including a wonderful three-part interview with Rabbi Fred Morgan on The Shtick, where he talks about highlights from speakers and subjects presented at the biennial!