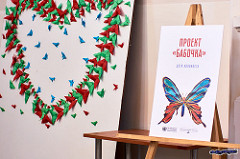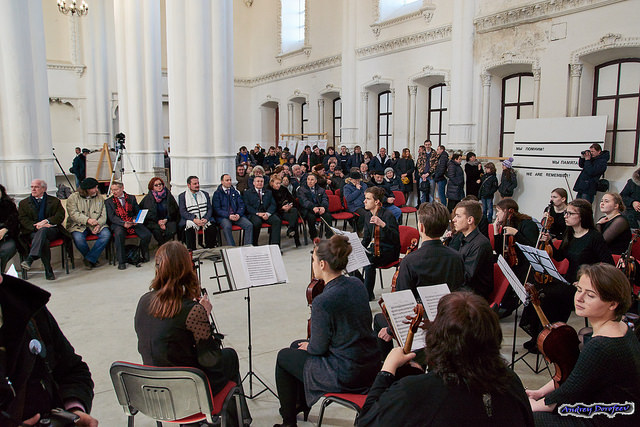 On March 18, more than 200 members of the Jewish communities as well as representatives of Christian congregations, non-governmental organizations, diplomats, schoolchildren, students, foreign visitors and residents of Grodno gathered at "March of Remembrence" in Grodno to honor the memory of Grodno ghetto demolition that happened 75 years ago.
The event began with prayer led by Rabbi Grisha Abramovich, Catholic Priest Andrei Krot, and Lutheran Pastor Vladimir Tatarnikov, as well as the head of the ChaBaD movement, Vladimir Malinkin. There was a ceremony with local youth of laying flowers and symbolic stones at the memorial signl led by Natan Shamsutzinov.
Special guests in attendance included: Head of the Delegation of the European Union in Belarus, German Ambassador in Belarus, Consul General of Poland in Grodno, Secretary of the Lithuanian Consulate General in Grodno, Consul General of Ukraine in Brest, Honorary Consul of the Kyrgyzstan in Grodno, Deputy Head of Administration of the Leninsky District of Grodno, and the Director of the Religious Union for Progressive Judaism (RUPJ) in Russia, Valeria Kanovich. Together, they added a layer of global importance to the event, bringing its message of memory and tolerance to a  wider audience.
During the "March of Remembrence," Elena Kutzevich, the Director of Grodno Jewish Community Center, Elena Lukienko, Chairperson of the Grodno Reform Community "Menorah," and Irina Belskaia, Jewish educator of the RUPJ in Belarus, spoke about the role of women during WWII which the first such address of this issue in a public, official forum. They also read from the book of Deuteronomy and spoke about those, who survived the Shoah, stating  "AM ISRAEL HI" may the People of Israel live!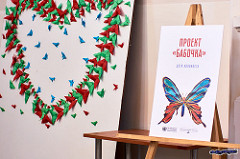 The March of Remembrance continued with the opening of two exhibitions in the Grodno Great Synagogue as presented by the Director of the RUPJ in Belarus, Michael Kemerov: "Butterfly. Children of the Holocaust" was prepared by the United Nations Development Programme; "Postcards from a shtetel" was created by Grodno artist,  Ales Surov. The both exhibitions are open for visitors until mid-April.
A musical concert concluded the day at the main hall of the Grodno Great Synagogue.
About the author: Michael Kemerov is the Executive Director of the Religious Union for Progressive Jewish Congregations in Belarus.
To view all the photos from this moving event, click here. 
The World Union operates a range of programs and activities, in partnership with a growing number of Progressive communities, across the Former Soviet Union. To read more updates from our congregations in Belarus, click here.