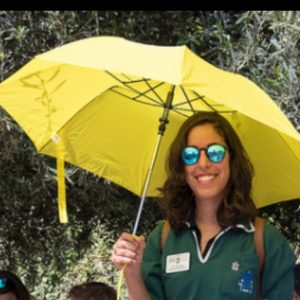 Shnat Netzer is the World Union's leadership training and Israel experience program that hosts young adults from around the world for eight-ten months of learning, working and living in Israel. The World Union sat with Netzer Shnat's newly-appointed Director, Orit Shoshani, to learn more about her and her vision for this transformative program.
1. What is your vision for Shnat?
We want to create bogrim who care for the Jewish people and play an active role in shaping it. I want to reach as many young progressive Jews as possible, and will work to make sure that chanichim from all around the world are included. It is very important for the shnatties to have a personal connection with the state of Israel and it's people and work in cooperation with Noar Telem in Israel.
What's your favorite thing to do with Shnattim?
Because it's a year of exploring and learning new things, I love having ideological conversations with them about things that they recently learned – like social issues in Israel, philosophy, even new TV shows that have affected them somehow.
What do you feel is the most important experience Shnattim gain over the course of their year here?
I feel they understand the importance of taking ownership and responsibility for their Netzer community, the society they are part of, and the state of Israel. Living in Israel and being part of it, not just from the outside as tourists but really living in it – like Yehuda Amichai describes in his poem Tourists – makes a big difference for their connection to Israel and their understanding of how it relates to their life. They see it all – the good, the bad & the ugly (and beautiful of course), and when they still love Israel with all its flaws, it's true love – just like in a healthy relationship.
What's your favorite song?
Definitely Neil Young – Heart of Gold. Powerful lyrics and great music!
What's your daily mantra?
Happiness is only real when shared (from Into the Wild). And drink coffee.
Which bitmoji best describes you?
I don't use bitmoji because I'm too busy using GIFs (best thing happen to the world lately).
If you were a Disney character, which one would you be?
I saw "Moana" lately with my niece and loved it and her. I think she is a strong, independent girl and is changing the whole concept of female characters' and is a great model for little kids today + she is living on a tropical island so that's great for sure.
Social media channel you're most active on?
Instagram, mainly because I love watching cake decorations for some reason.
Biggest pet peeve?
What's that?
Candy or cake?
I don't want to live in a world where you have to choose between those two.