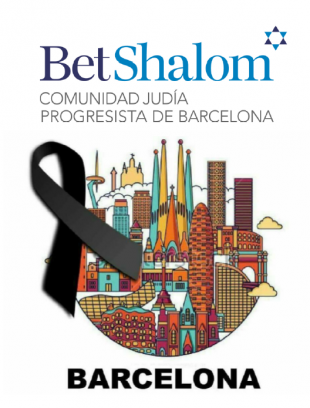 Here at the Comunitat Jueva Bet Shalom we emphatically condemn the attacks which took place in the cities of Barcelona and Cambrils. During this painful time, our prayers are with the victims, with their families and friends, and our solidarity is with the citizens and the institutions that represent them.
Today [August 17, 2017]  our hearts meet, we share your pain, your sorrow, your anger; we are in shock, a shock that has been felt before by the citizens of Madrid, London, Paris, New York,
 Tel Aviv, Jerusalem, Kabul, Bombay, Moscow, Ankara or Nairobi. As Progressive Jews, committed to repairing the world, committed to the Tikkun Olam, it is crucial for us to remember, to remind ourselves today more than ever of our commitment to peace, justice and democracy. To remember our rejection of all forms of violence, especially those which shield themselves with religion in order to commit murder and acts of unspeakable terror. Remembering this is the only path to victory.
We want to thank the kindness and solidarity we are being shown, especially from the World Union for Progressive Judaism committee in New York, from the European Union for Progressive Judaism committee in London, from the Jewish communities in Spain, particularly those which are a part of the Union of Progressive Communities in Spain; from kehilot and Jewish institutions in Israel, Europe, the United States, Canada… From rabbis and woman rabbis, from friends and members of other religious traditions from around the world.
Barcelona is our city, many of our members were born in Barcelona or have chosen to live there and to cherish it. We are visited all year round by citizens from all over the world who come to get acquainted with this city and spend a Shabbat with us, a Shabbat of Peace.
We wish that the Peace of Shabbat should live long and reach the entire world, that it should give us strength and guide us.
Barcelona, August 17, 2017