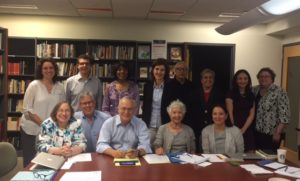 On August 10, 2017 representatives from the World Union for Progressive Judaism (WUPJ), Union for Reform Judaism (URJ), Women of Reform Judaism (WRJ), Israel Movement for Progressive Judaism (IMPJ), the Association of Reform Zionists of America (ARZA), and ARZENU, the International Federation of Reform and Progressive Religious Zionists, met in person and virtually to discuss the global Progressive movement's efficacy at the United Nations in New York. Currently the URJ, of North America, and WRJ have six seats each affiliated with the Department of Public Information (DPI) of the United Nations. The World Union has six seats in New York plus representation in Geneva and Vienna in consultative status with the Economic and Social Council (ECOSOC), meaning WUPJ has the ability to speak and intervene during commission meetings.
The purpose of the meeting on August 10 was to begin to craft a global strategy and identify key areas of interest and importance at the United Nations that best represent our constituents while at the same time potentially mobilizing congregations worldwide in campaigns that meet shared interests of WUPJ and the UN. Also joining the meeting was Hillel Neuer of the NGO UN Watch and Amir Sagie, Deputy Counsel General of Israel in New York. The result was a renewed effort for global communication and coordination in our presence at the UN as well as a basic framework for the identification of key issues, of which Israel is key.
Currently, there is very little denominational presence from the Jewish community at the UN and influence is relegated to development-oriented organizations like World Jewish Congress. The goal of WUPJ at the United Nations in New York and Europe is to elevate our influence on key issues while partnering when relevant with other Jewish NGOs, other faith-based NGOs, and the Israeli Government. UN Reps are happy to make presentations at congregations or regional meetings about our ongoing work at the UN.
In attendance:
WUPJ:
– Sonja Guentner, Vice Chair, Rep in Geneva
– Janet Stovin, WUPJ Representative to the UN in New York, member of NGO Board of Directors
– Leslie Brier, member of WUPJ North American Advisory Board,WRJ Executive Committee, and WUPJ Representative to the UN in New York
– John Clark, WUPJ Representative to the UN in Vienna
– Sandy Schweighofer, WUPJ Representative to the UN in Vienna
– Alex Dembitz, WUPJ Executive Board Member
– Carole Sterling, Chair
– Rabbi Daniel H Freelander, President
– Andrew Keene, WUPJ Executive Board member and WUPJ Representative to the UN in New York
Women of Reform Judaism:
– Sandra Abramson, WRJ Representative in New York
– Michelle Malkin, WRJ Staff, WRJ Representative in New York
– Rabbi Marla Feldman, WRJ Executive Director
– Blair Marks, WRJ President
Union for Reform Judaism:
– Honey Heller, URJ Representative to the UN in New York
– Lynn Reichgott, URJ Representative to the UN in New York
– Rabbi David Saperstein, Senior Advisor
– Barbara Weinstein, Director of Commission on Social Action
Steve Portnoy, MRJ President and URJ Representative to the UN in New York
Amy Sheinberg, Managing Director of ARZA
Reuven Marko, Chairman, IMPJ
Rabbi Lea Muhlstein, Vice Chair of ARZENU