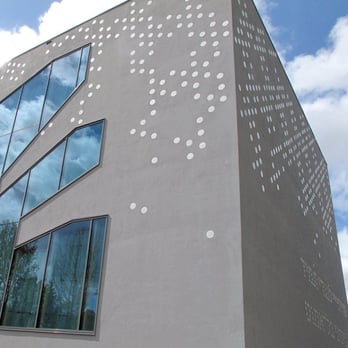 What does it mean to be part of a global Jewish community? For many of us, the concept can be difficult to truly grasp. My father, sisters, and I recently had the chance to understand a little more about it, though, during our recent visit to the Progressive/Liberal Jewish Community of Amsterdam (LJG) when we met in the city to celebrate our father's 80th birthday.
I've been living in Israel since 1992 and have occasionally thought about the possibility of meeting my father and sisters – who live in New York and Virginia – in a European city, but I never imagined it would come to be. For me, it was a dream come true, and our visit to LJG was the icing on the cake of a wonderful trip.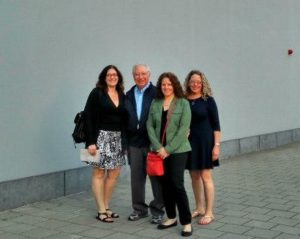 The visit was put into motion by Joanne Nihom, a Dutch journalist who lives in a small village in the Western Galilee, not far from my home in Nahariya. I met Joanne at Galilee Medical Center, where I work as a liaison in the International Affairs Department, while she was interviewing some of our employees for an article on Arab-Jewish coexistence and interfaith relations in Israel for a Dutch Christian newspaper. As the old saying goes, one thing led to another when I mentioned that I would be visiting Amsterdam in May and that I was a member of Nahariya's Reform synagogue, Emet VeShalom, affiliated with Israel's Movement for Progressive Judaism.
Joanne told me her brother-in-law, Rabbi Menno ten Brink, was LJG's rabbi and offered to coordinate a visit for my family and me to the congregation with her sister Riette. Joanne also told me that because our visit would coincide with Rosh Chodesh, we could attend the community's monthly Oneg Shabbat — a celebration in honor of the Sabbath, with songs and a light meal following services. I was thrilled because I knew my father would prefer to eat Friday night Shabbat dinner in a potentially engaging encounter with the local Jewish community over any other place else in the city.
Upon our arrival to LJG, Madelon Bino, the director of the congregation, warmly welcomed us, and we quickly felt at ease as the recognizable tunes of Kabbalat Shabbat engulfed us. We enjoyed the spirited service; singing familiar prayers like "Adon Olam" together with people from a different country of all ages — all Jews — was unspeakably moving. Moreover, the experience of prayers binding us as a people, whether we live in Israel or any place in the Diaspora, was a powerful one. Despite our differences, we all share a religion, traditions, and a way of life.
The lively oneg featured Israeli foods and local Dutch fare, bought and prepared by Riette and other community members earlier that day for the approximately100 people who attended. We were surprised by the large turnout, especially when Riette told us that usually another 30 to 40 people attend! (Because it was a holiday weekend in Holland, many members were away.) After the meal, we listened to and joined in songs with the community in honor of Jerusalem Day, which was being celebrated that week. I even managed to grasp the essence of Rabbi ten Brink's talk about his recent visit to Jerusalem for the World Union for Progressive Judaism conference. Although I don't understand Dutch, it was interspersed with Hebrew words I recognized.
Earlier that day, we'd visited the Anne Frank House and were reminded how the Dutch Jewish community was destroyed by the Nazis during World War II. Clearly every older member of LJG congregation had his or her own unique story of Holocaust survival and renewal of life following the war.
In light of that, it was particularly inspiring to see a slice of Amsterdam's vibrant Jewish community and its ongoing Jewish life, which denies Hitler a posthumous victory. Spending Friday night, erev Shabbat, at LJG added to my understanding of Jewish life in Europe, and also motivated me to think more about my own attitude toward Judaism and to learn a little more about myself.
Visiting a congregation in another country makes a visit abroad even more personal. Even without a direct connection as I had, anyone can discover European Progressive and Reform communities online via the European Union for Progressive Judaism's website, and other international congregations through the WUPJ. These organizations can help to coordinate a visit.
So if you're planning on traveling abroad, what are you waiting for? Look into it! It's a wonderful opportunity to experience the different cultural and religious groups that make up the continuing story of Jewish history and our peoplehood.
Sharon Mann made aliyah in 1992 and lives in Nahariya, Israel. She is an active member of Kehillat Emet VeShalom, where she is on the Women of Reform Judaism Steering Committee and volunteers as International Contact Liaison.