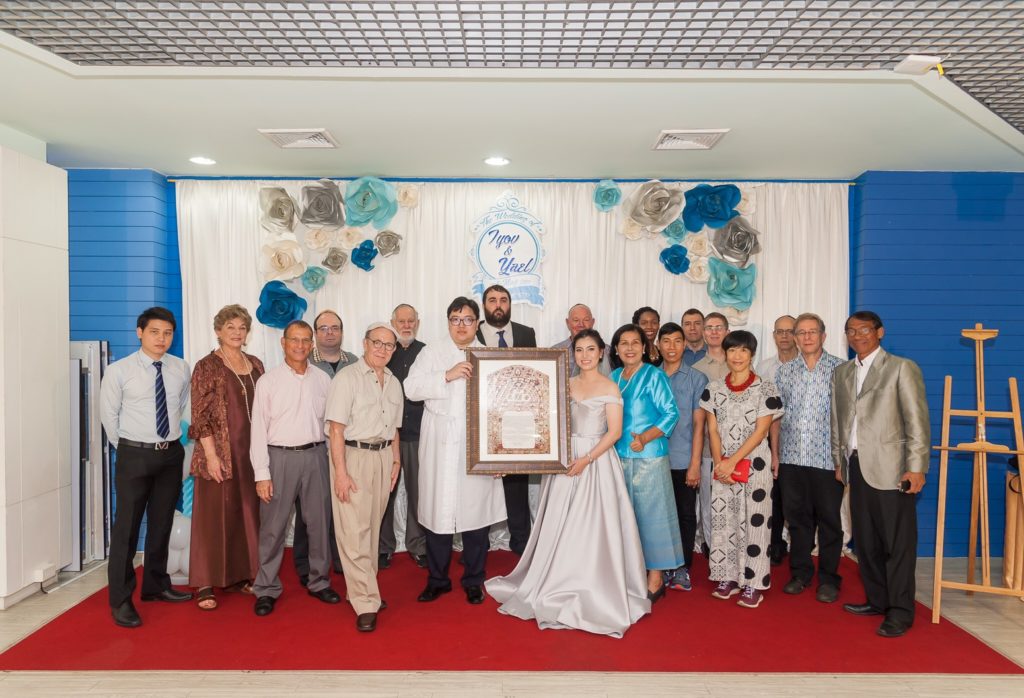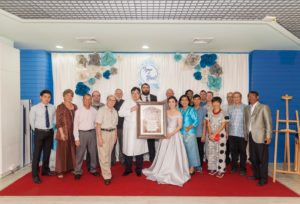 Sunday, May 28, 2017 was a memorable day for members of Thailand Progressive Jewish Community (TPJC). Joy and love filled the air as TPJC celebrated its first Jewish wedding. Our dear Thai Jews-by-choice members, Mr. Sanpat (Job) Suwannathat and Mrs. Patthera (Max) Suwannathat were remarried in a traditional Jewish ceremony, continuing their journey into Judaism. Rabbi Nathan Alfred, of United Hebrew Congregation – our progressive sibling in Singapore – led the moving ceremony, which was complete with a ketubah, chuppah, ring-bearer (their three-year old son), breaking-of-the-glass, and even the chair dance. Following the ceremony, we enjoyed a meal of delicious Thai and Chinese dishes.  Next up – Bar and Bat Mitzvahs (we hope!).
We first met Job and Max during Hanukkah in 2014, when they discovered TPJC on the internet and expressed a desire to learn more about Judaism. We invited them to attend our Hanukkah party, and were immediately taken by their friendliness. We learned that they had a long-held interest in Judaism, had Jewish friends from university days, and had even traveled to Israel in 2011 for their honeymoon.
Job and Max then began the conversion process, studying remotely with rabbis in Singapore, including Rabbi Alfred. After more than two years of very hard and diligent work, Job and Max were successfully converted at the Beit Din in Tokyo in January 2017, becoming Jews by choice. They are very active in TPJC, participating in our holiday services and other events, and also as members of the board of directors and as officers – Job as secretary, and Max as treasurer.
When asked to reflect on the significance of the ceremony, Job answered, "Having Jewish wedding ceremony complete our journey to become Jewish family." And Max added, "We were really grateful for the support of the TPJC community and to Rabbi Nathan Alfred for traveling from Singapore to officiate our wedding."
Rabbi Alfred has visited Bangkok several times, leading us in Shabbat services and providing advice as a growing community. TPJC, founded in 2014, welcomes rabbis – and all Jews from around the world – to visit us and attend our events.
For more information about the TPJC congregation visit: www.tpjc.org.