I was very fortunate this past week to join leaders of the European Union for Progressive Judaism (EUPJ), David Pollak and Gordon Smith, for a remarkable visit to the Prague Progressive Jewish community at the invitation of Jonathan Wootliff, a long-term British resident of Prague.
Jonathan is a passionate believer in the potential of Progressive Judaism in the Czech Republic. He founded a "start-up" named Or Tamid to work with Jewish communities in Prague and the surrounding area to encourage communal growth and engagement. As part of their outreach, he and Julie Bergmann organised a Kabbalat Shabbat in Prague for the weekend of March 10-13 that was hugely successful, selling out all tickets for close to 130 attendees, and reserving others on a long waiting list.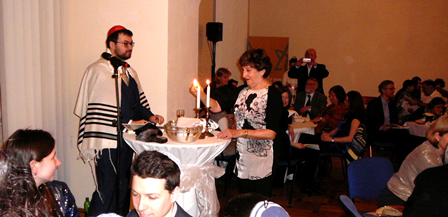 The Friday night programme featured services led by student Rabbi David Maxa, a buffet dinner, birkat hamazon led by cantorial student Ivan Kohout, and much singing and dancing. Many of the attendees were not members of Reform congregations in Prague, but they were keen to engage and participate in Jewish activities. Other partners in this exciting venture were the Czech Union of Jewish Students and Moishe House, along with the Jewish communities ZLU and Beit Simcha.
There was a wonderful atmosphere in the room – it was a cross-generational event, with many children and even tiny babies in attendance. There was an obvious thirst for more Jewish engagement, and Or Tamid is developing a programme which will continue to attract more people.

Prague has an incredible Jewish history, with a wealth of ancient synagogues. On Saturday morning, we attended the full Shabbat morning service at Pinkas Synagogue. This is the synagogue with the 80,000 names painted on its walls of Moravian and Bohemian Jews who were deported to their deaths during the Holocaust. David Maxa (rabbinic student) and Ivan Kahout (cantorial student) – both at Abraham Geiger College – led a deeply moving service. David, himself from Prague, gave the sermon, which drew on his family roots and reflected on where we were praying and the hope for the future. (Click here to read the full sermon).
The weekend impressed upon me the potential of rabbinic and lay leadership, and the enthusiasm and thirst for Progressive Judaism, all in a beautiful central European city with its own unique Jewish history. Or Tamid will certainly shine brightly onto the future of Progressive Judaism in the Czech Republic.
The EUPJ just announced that it will hold its 2018 regional conference in Prague on April 26–29 in 2018. So save the date to experience the beauty and magic of Progressive Judaism – and Or Tamid – in Prague for yourselves!
---
About the author:
Judy Smith lives in London, England where she is a member of ALYTH North Western Reform Synagogue. She is a former Executive Board Member of the World Union for Progressive Judaism (WUPJ) and the current Marketing Committee Chair.