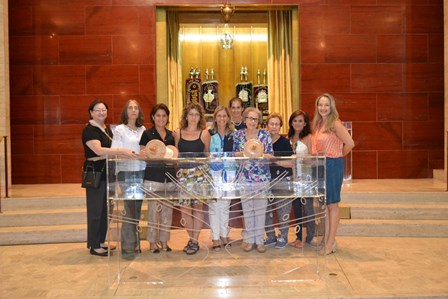 The idea came to us last year during a discussion with Ruth Bohm, a representative of Women for Reform Judaism (WRJ) in Latin America. We were talking about ways to connect Jewish women from our region, with diverse backgrounds, in a new and exciting way.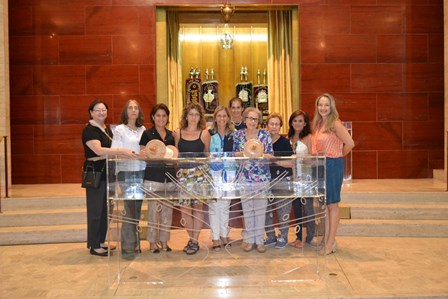 That's when it dawned on us: the most special rite in a woman's life is her coming-of age-ceremony, or Bat Mitzvah. So we thought how about we organize an adult Bat Mitzvah ceremony for women from Latin America, who never had the chance for their own Bat Mitzvah, and hold the ceremony and celebration at the Kotel in Jerusalem?
As we started to identify the resources both within our region and belonging to the World Union for Progressive Judaism (WUPJ), we realized that our global reach offered a unique opportunity to bridge 30 women from different cities, states and countries of Latin America with a range of scholars and rabbis around the world. The common waystation for all involved was Jerusalem – the Kotel – and in May 2017, many members of our region, along with members of our extended global family, are coming together for CONNECTIONS 2017. What an opportunity to commemorate and exalt the significance of this moment!
We started planning, and with the dedication and hard work of some key people and our great team, it is now a reality. We are pleased to invite you to join us at the Kotel in Jerusalem on Thursday, May 18, between 8-10am at the Kotel to celebrate the Bat Mitzvah ceremonies of twelve women from Latin America as part of the World Union's CONNECTIONS 2017 biennial conference.
Rabbi Ruben Sternschein, from Congregação Israelita Paulista (CIP), in Brazil, was the first to support the project, completely embracing the idea. He quickly invited educators from the Reform and Conservative Movement, some locals and some from abroad, to not only teach the participating women, but to elevate the level of education and insights offered during the lead-up to the event. International professors who are teaching the participating women and leading workshops include: Rabbi Deborah Kahn-Harris from Leo Back College; Rabbi Deby Grinberg from the Institute for Diaspora Leadership; Rabbi Joseph Edelheit from St. Cloud State University and PUC Rio de Janeiro; Rabbi Marla Feldman from the Women for Reform Judaism; Rabbi Naamah Kelman, Dean of the Hebrew Union College – Jewish Institute for Religion (HUC-JIR) in Jerusalem.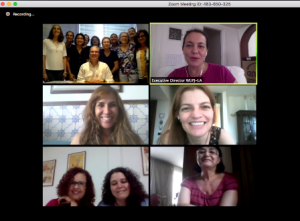 Local teachers contributing include Professors Suzana Chwatz, Gerorge Gabanyi and Alexandre Edelstein, as well as Rabbis Ariel Kleiner, Fernanda Tomchinsky, Michel Schlesinger, Rogerio Z. Cukierman, and Ruben Sternschein.
Among the courses and discussion topics: Definition and Meaning of a Bat Mitzvah; Women's Evolution in Midrash and Talmud; Meaningful Views of Jewish Holidays (chagim or chaguim); Feminist Alternative Readings of Biblical Texts; Mystics and Kabbalah; Chasidism and Spirituality. Additional coursework focuses on learning Hebrew, Torah portions and prayers.
The use of technology afforded the group the ability to study together in real time. Karin Zingerevitz, Executive Director of World Union for Progressive Judaism-Latin America (WUPJ-LA), and Rebeka Anbinder, Program Assistant, provided critical support to the program, including developing an effective and easy-to-use communication platform for the participants to use and interact with each other, a website for the program with access to all lectures, and a Facebook page.
We are now several months into the program's coursework and deep into our preparatory studies. Some women will read from the Torah, some will read a personal 'drash', one will lead prayers and another will read a blessing. With CONNECTIONS in May only a few months away, we asked participants to reflect on what their participation in this program means to them:
"When I heard about the opportunity to celebrate my Bat Mitzvah at the Kotel, in Israel, with my female colleagues and friends, I knew I could not let it pass. I think it will be one of the most beautiful moments of my life." – Miriam Olchansky, Buenos Aires, Argentina
"It has been a reflexive process that has encouraged me to have a critical look at what I receive as knowledge. I am increasingly convinced that my life as a Jewish woman is less to reproduce what was established for a Jewish woman, and more to assume my responsibility in building a Jewish way of being. It became part of my interpretation of Tikkun Olam." – Kelita Cohen, Brasília, Brasil
"It is an inexplicable emotion to have this opportunity." – Ruth Bohm, São Paulo, Brazil
Don't forget to register for CONNECTIONS 2017 as limited space is available!
---
About the author:
Miriam Vasserman is the Vice Chair of the World Union for Progressive Judaism – Latin America. She lives in São Paulo, Brazil.