Connecting Lives
Jewish values and practices have their greatest meaning when they are shared. The World Union creates opportunities for members of its communities to connect with each other on many levels.
Congregational leaders exchange experiences and best practices throughout the year at meetings and conventions from Moscow to Sâo Paulo, from Johannesburg to Jerusalem. Congregational missions and personal visits bring people together in Israel, Europe, the FSU and Latin America for shared religious and social experiences.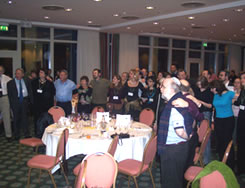 Synagogue twinning and the Torah loan program, "Guardians of Torah," enable Reform congregations to connect with their Liberal and Progressive counterparts around the world, while individual Bar and Bat Mitzvah youths pair with peers in foreign countries.
The World Union's Yad b'Yad ("Hand in Hand") task force, created in response to the economic crisis in Argentina, continues its work by supporting humanitarian and Jewish educational projects for a growing number of our Latin American neighbors.
Through online newsletters, Internet correspondence and the World Union's Web site, individuals connect daily to discuss a wide variety of matters – both religious and secular – all in pursuit of the common goals of the worldwide Reform movement.