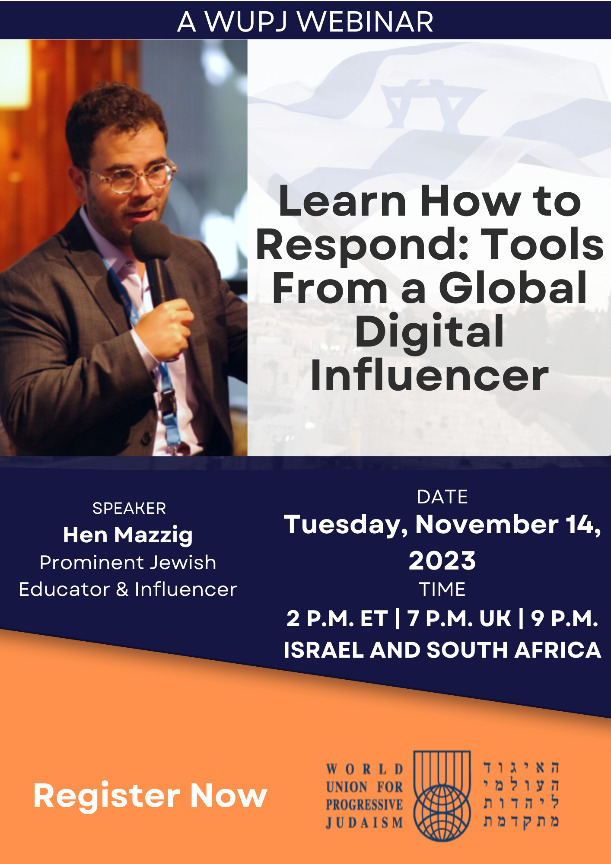 Hen Mazzig is a globally recognized speaker, educator, author, and digital influencer. Mazzig has gained over 400k followers on his social media platforms, and over 100 million users have interacted with his content. He has appeared as an expert on Jewish issues in media on four continents, including BBC, CNN, The Washington Post, SkyNews, LA Times, Haaretz, and more.
Hen was named in Algemeiner's Top 100 People positively influencing Jewish Life in 2018 and 2021, the Top 50 online pro-Israel Influencers, and the Top 50 LGBTQ+ Influencers. For his advocacy, he was recently awarded CAMERA's Portrait in Courage Award. Mazzig's first book, "The Wrong Kind of Jew" was released in 2022.
In 2019, he co-founded the Tel Aviv Institute, a platform that researches and combats online antisemitism.
Gain tools and learn how to respond to different topics from Hen in this WUPJ webinar with Hen Mazzig.
Tuesday 14 November – 2 PM ET | 7 PM UK | 9 PM Israel & South Africa