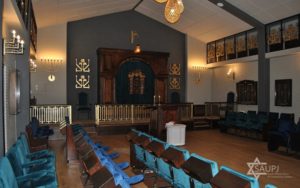 Beit David
Durban Progressive Jewish Congregation
Durban, South Africa
44 K E Masinga Road, Durban 4001
PO Box 10826, Marine Parade 4056
031 335 4458 | dpjc@sbsa.com
Beit David is actively looking for a new full-time rabbi to replace Rabbi Hillel Avidan who served the congregation for fourteen years and retired at the end of April 2019.
The new rabbi is expected to participate fully in all aspects of life of the Beit David Durban congregation, while in addition being given specific responsibilities and personal projects. Rabbinic duties include such activities as worship, care and outreach, life cycle events, and educational activities.
There will also be areas of direct responsibility for our new rabbi being:
· Building a stronger sense of care and community;
· Overseeing the building of a stronger youth community from birth to adulthood;
· Overseeing religion school and bar/bat mitzvah education and training;
· Responsibility for heightening youth involvement in the congregation, including our youth group;
· Assisting Netzer youth;
· Taking a role in the social action/social justice work of the congregation; and
· Participation in social networking.
We are offering an initial two year contract. We will do whatever we can to help our new rabbi settle in, feel at home and be able to contribute to the growth and success of our community.
Beit David has a wide-ranging demographic in ages, incomes and backgrounds including a growing number of graduates coming out of our Jews-by-choice programme. Combined with work with non-members and external organisations it makes for a busy and exciting congregation.
We are the only non-Orthodox congregation in the city of Durban where the majority of Jews are affiliated to Orthodox congregations. We would like to grow and expand the opportunities for Progressive Jewish education and practice and play a more visible role in the broader community.
Remuneration commensurate on experience.
Interested in applying? Contact the congregation: dpjc@sbsa.com
You can learn more about Durban by clicking here and here.