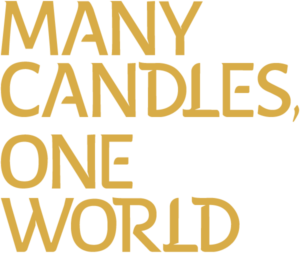 Dear Friends,
We are honored to be chairing the first ever World Union virtual Chanukah Celebration on December 13. Like you, we wish we could all celebrate in one room, with friends and family around us. Although we are far apart, this evening will be a chance for us to be together virtually, focusing on the good and supporting an organization that makes it possible for all Progressive Jews to practice a creative and meaningful Judaism, no matter where they choose to live.
You'll have a front row seat for an inspirational evening of music and tradition from around the globe. Celebrity guests will light Chanukah candles and share their artistry with us. The program is being professionally produced by Tony award winner Yael Silver and her partner Chase Thomas. Cantor Evan Kent is on board as the evening's consulting producer. You will recognize many of the Reform movement influencers throughout the hour and of course, enjoy seeing our children on screen.
How will it all work?
We are committed to ensuring that all Jews have access to a vibrant and personally meaningful Jewish life – spiritually inspirational, creative, and modern. But we need your help and support to develop leadership for our communities.

To participate in Many Candles, One World, register here, so that we know you'll be tuning in!
After you register, you will have a chance to choose your level of sponsorship. There are a host of opportunities for everyone, but please give generously and remember that the World Union depends entirely on the generosity of individuals, foundations, and federations to succeed. We have no membership.
Mark your calendar for the premiere on December 13 at 8 PM Eastern Time or choose a time that works best for you in your time-zone (after 8PM-NY Time). Click on the premiere link that we'll send you, and we'll take it from there!
We also encourage you to sponsor a watch party by inviting friends to join you to watch together. Register your guests (you can fill out the form on their behalf or ask them to fill it out individually).
Central Synagogue (New York City) will host our program on their YouTube channel. We are delighted to be partnering with this great institution whose inclusive and welcoming community is deeply connected to so many Progressive communities around the world.
Where Your Contribution Goes: The President's Challenge

We have a special passion for the WUPJ. Our new president, Rabbi Sergio Bergman, has issued a challenge to our regions. The money we raise from Many Candles, One World will establish the new "WUPJ Education Fund for the Future." Resources will be pooled and directed to where they are needed most, focusing on Progressive Jewish learning throughout the lifecycle and across the world. By providing scholarships for individuals to attend camps, schools, and training programs, we will deepen the knowledge and confidence needed to create a generation of extraordinary professional and volunteer leaders who will transform our communities. With the help of the Fund for the Future, we will have the opportunity to engage every family member, at every age and stage of life.
Thank you for supporting the World Union for Progressive Judaism. Your help is so important every day but especially during this critical time.
If you want more information about the Chanukah Gala, click here or reach out to either of us with questions.
All the best.
Tadd and Les