Nurturing Youth
The future of Reform Judaism is in the hands of its youth, and the World Union focuses heavily on its large and rapidly growing Jewish youth movement, Netzer Olami (International Reform Zionist Youth).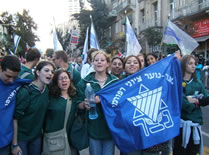 Founded in 1979, Netzer Olami today brings together more than 16,000 young people in 18 countries and inspires them with a love of Israel, Jewish peoplehood and continuing traditions in the context of modern democracy and pluralism. Netzer Olami is the largest Jewish youth movement in the former Soviet Union, and with the recent affiliation of NFTY (North American Federation of Temple Youth), it is one of the largest in the world.
In 1996, Netzer Olami established TaMaR (Tnuat Magshimim Reformit), an organization for young adults aged 18 to 30, to continue their involvement in the global Reform community.