Resources List
The liberal streams of Judaism represent the largest and fastest-growing populations of Jews throughout the world. Their core values of pluralism, modernity, equality and social justice appeal to many who seek to incorporate precious Jewish tradition with contemporary lifestyles.
As communities develop and grow, they seek knowledge and connections with others so that they may learn, build and expand on best practices and the wisdom of those who have gone before them. That is the purpose of the RESOURCES section of the World Union's web site.
WUPJ Position Paper on Circumcision
As Rabbi Fuchs points out in this paper, the legislative fight against circumcision has increased dramatically over recent times. In response to a request to the WUPJ at the European Union meeting last March, Rabbi Fuchs agreed to prepare an educational response for the use of communities under threat where male circumcision could be made illegal. This is a "resource" that the WUPJ wishes to build upon for other issues of concern. Rabbi Fuchs consulted many other rabbis in his quest to try and represent a broad Progressive viewpoint. However, we recognize that there will be those who do not see male circumcision as represented in this paper.
It is for this reason that we publish this on our resource page on the WUPJ web-site but also offer this on our Facebook page for others to comment. We would like to read your responses.
Philip Bliss, Chair WUPJ Advocacy Committee
Please click here to read the paper, and here to visit our Facebook page
Exciting Clips from WUPJ Celebratory Luncheon at the URJ Biennial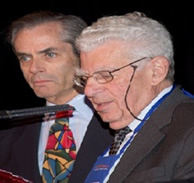 Relive with us some of our exciting moments at the WUPJ Celebratory Luncheon at the URJ Biennial in Washington DC.
Click here to watch the moving installation of newly elected WUPJ President, Rabbi Stephen Lewis Fuchs.
Listen to the inspiring words of Michael Grabiner, Shai Pinto, and Rabbi Fuchs.
Click here to listen to Rabbi Gary Bretton-Granatoor's plea for your support of our Beit Shmuel 25th Anniversary Campaign, support of our camping program in the FSU, and support of the daily work of the WUPJ.
Click here to see Honorary Life President Rabbi Richard G. Hirsch present the WUPJ Micah Award to Rabbi Eric Yoffie as he steps down from the Presidency of the Union for Reform Judaism.
And click here to listen to some of the exciting music by Kol Beseder.
World Union Posters Now Available
Bring a little bit of the World Union into your own synagogue with these colorful and informative posters. If you are planning any program or activity with international content, these posters will bring alive the connection between your community and the many Reform, Progressive and Liberal communities around the world.
Click here to download the posters as PDFs. Contact us at wupjis@wupj.org.il if you are interested in full-size posters.
Hold Your Own World Union Shabbat Evening Service
Now your congregation can share a few moments with their Reform Jewish brothers and sisters worldwide on Shabbat by using the just-published World Union Shabbat Evening Service booklet. Featuring liturgical passages from services in the U.K., Russia, Spain, Italy, Poland, Holland and France, the service is a great opportunity to learn about communities abroad and generate interest in becoming involved with the World Union global family.
Click here to download the 20-page booklet.