Progressive Judaism has grown significantly in Latin America over the past several decades boasting many synagogues, schools and community services. These congregations constitute a large family – large and small, urban and rural – who share the common link of Progressive Judaism.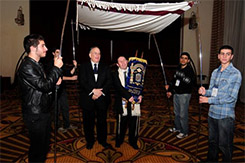 Jewish migration to the region began in the late 15th century and Jewish communities sprang up throughout the region over the centuries. In 1997 the Fundación Judaica was created to help Jewish institutions in need. In 2002 WUPJ's Yad b'Yad Task Force was founded to help affected areas in Argentina, and in 2003 the AIP (Asociación Israelita de los Pampas) began its activities, ensuring support for the religious, educational, cultural and social needs of communities in peripheral areas. While there are many challenges in the region, we note the emergence of new congregations, such as Ruaj Ami in Chile, and an increase in the number of members of CIP-SP, Brazil; ARI, Rio de Janeiro; SIBRA, Porto Alegre; CIM, Belo Horizonte; and Kol Shearith Israel, Panama.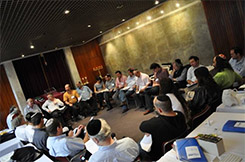 The WUPJ Latin American regional council has been active since 2004, officially established as the WUPJ-LA region in 2010. Relying almost entirely on volunteers, the WUPJ-LA contributed to the recovery and continuity of Judaism in the region. When economic conditions in Argentina improved, the Yad b'Yad Task Force focus was redirected to other areas such as youth activities, local leadership, and outreach. Since 2004 four regional conferences were held and a local Board of Directors was formed at the end of 2009.
The Union Judía de Caribe y Latinoamerica / Union of Jewish Congregations of Latin America and the Caribbean (UJCL) was established in 1998 in Costa Rica, to promote communication and contact among the many, small liberal communities in the region. Today, WUPJ-LA works in cooperation with the UJCL to help connect strong and vibrant communities such as in Mexico and Panama and smaller communities including Aruba, Guatemala, and Costa Rica.
With many changes over the past three and a half centuries, our communities remain active and vibrant. The number of members is on the rise, and new congregations are being established. More and more communities are reaching out to the WUPJ, and the diversity of this big family helps maintain and strengthen the Jewish flame that unites us all.