The Progressive Jewish community of Prague, Ec chajim, has awarded its first-ever Isaac Mayer Wise Award to Sonja Guentner, Senior Vice Chair of WUPJ and Co-Chair of the European Union for Progressive Judaism.
The Award, presented in Prague on Oct. 22, recognizes contributions to the development of the Progressive Jewish community of Ec chajim and the Renewal of Reform Judaism in the Czech Republic.
"I have often stressed that Progressive Judaism is Europe's genuine contribution to the millennia of Jewish history," Guentner said as she accepted the Award from Rabbi David Maxa, the founder of Ec chajim and its spiritual leader.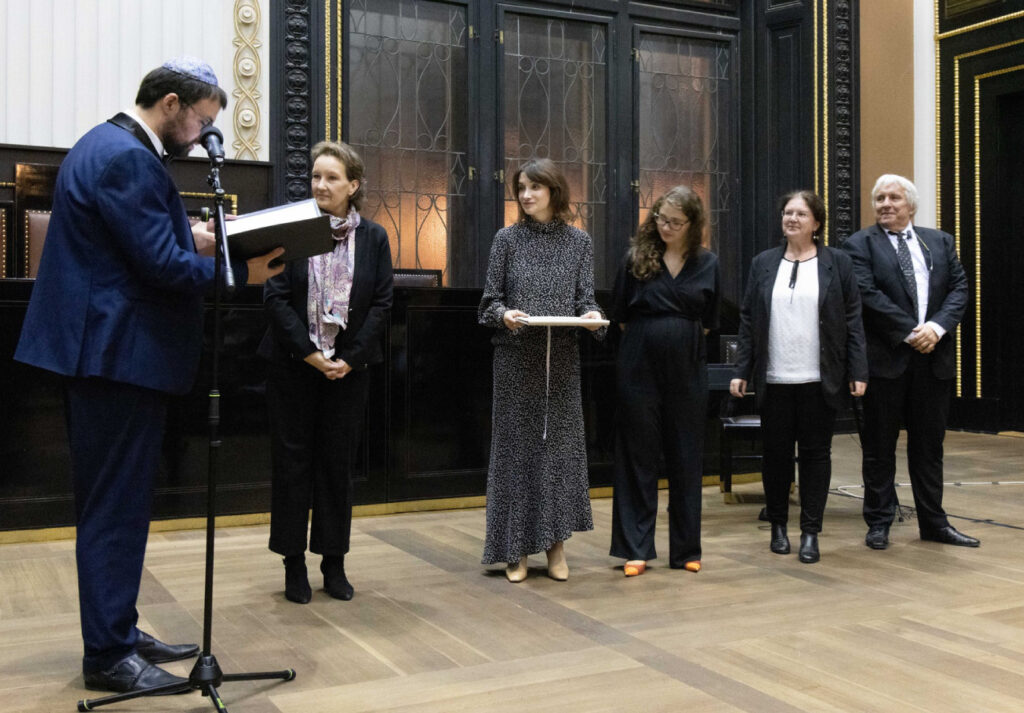 "Many people … in our global Jewish family have dedicated their hearts and literally parts of their lives to the revival of Progressive Judaism in Europe, to once again promoting the notion that religion and the enlightened ideals of diversity and equality can go hand in hand.
"I am deeply grateful to the board and community of Ec chajim for your kind and generous recognition of my own small contribution. We are all blessed by the inspiration you are to all of us by showing us how what we had almost lost can be brought back to life, can prosper and flourish and be a hope for the future."
The Award — named after Czech-born Rabbi Isaac Mayer Wise, z"l, considered one of the most influential founders of Reform Judaism — was presented in the Brožík Assembly Hall of the Old Town Hall in Prague. In attendance was WUPJ President Rabbi Sergio Bergman, WUPJ Chair Carole Sterling, WUPJ Management Committee Member Andrew Keene, Israeli Ambassador Anna Azari, and Professor Radka Wildová, Czech Deputy Minister of Education, Youth and Sports.
Photos: courtesy of Sheila Pallay and Judita Maxa Begmannova