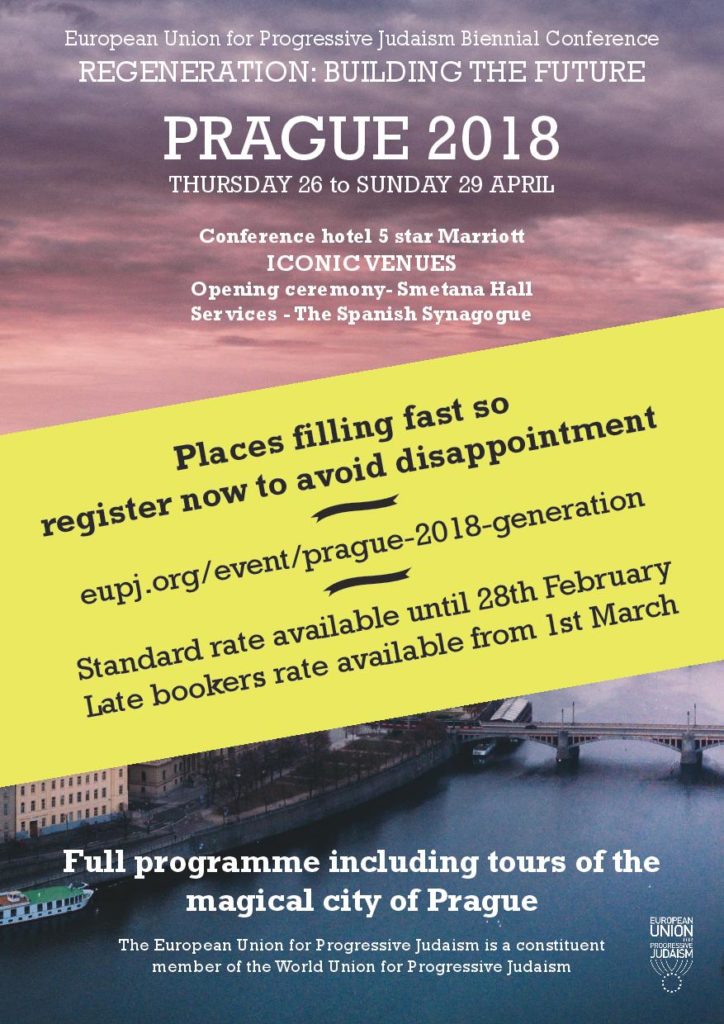 For more information, including the programme, visit the biennial website.
Regeneration – Building the Future. The EUPJ Biennial Conference 2018 will reflect the philosophy that drives both Progressive Judaism in Europe and beyond. We are delighted to hold this conference in one of the most exciting cities in Europe which hosts a unique Progressive Jewish history.
The conference will focus on the future of Progressive Judaism and will not only feature the development of the progressive Jewish communities in Prague and the Czech Republic, but will also centre on the growth, involvement and leadership of young Jews in building a new Jewish reality across Europe.
A Leadership Seminar for young adults will be held immediately prior to the main conference with the aim of drawing the next generation of European Jews into shaping their Jewish future.
The conference opening ceremony will be held at the iconic and beautiful Smetana Hall.
The emphasis of the workshops and plenary sessions will be on building a Judaism for the future.  We will feature inspirational speakers, such as Mark Podwal – Czech artist and illustrator, Jean-Marc Liling from the Center for International Migration and Integration in Israel and David Hirsh founder of Engage – the campaign against the academic boycott of Israel.
Our conference will provide the opportunity to create an international Jewish community celebrating a unique Shabbat, offering a memorable Friday evening and a wonderful spiritual experience throughout Shabbat with services at the beautiful Spanish Synagogue.  We will showcase the rich cultural and Jewish history of Prague during the conference.
Regeneration –  Building the Future will celebrate with our Prague communities and the huge number of unaffiliated young Jews who are looking to join us in this exciting Jewish journey.
We will be looking to build on the connections made at the conference to create and develop twinning relationships between communities across borders.
Our continued growth across Europe is testament to the fact our approach unites Jews who want a non-fundamentalist, inclusive, egalitarian and modern interpretation of Judaism.
The EUPJ works to foster and stimulate the growth of Progressive Judaism. It is the umbrella organisation linking and supporting more than 180 Liberal, Progressive and Reform communities throughout Europe in 17 countries. Visit their website for more information: www.eupj.org