The World Union for Progressive Judaism is led by a team of diverse, dedicated individuals around the world who are committed to pursuing and realizing the World Union's mission together.

Our leadership comprises rabbis, educators and congregation officials as well as young people, from their teens through their twenties, who are the leaders of tomorrow. The World Union also works in close cooperation with leaders of major organizations of Reform and liberal Judaism in the United States and worldwide.
Representatives from dozens of countries sit on our International Assembly, the World Union's legislative body, ensuring that the organization's objectives are fulfilled. The Executive Board and Management Committee are the organizational bodies that oversee policy and operational efficiency.
Our Leadership:
---
Carole Sterling, Chair
Born and raised in Montreal, Canada, Carole Sterling has dedicated many years to leading and volunteering for significant Jewish organizations in Canada, North America, and the world.
Before joining the World Union for Progressive Judaism as Chair in 2015, Carole served as President of the Canadian Council for Reform Judaism, Chair of the Women's Campaign for UJA Federation of Greater Toronto, Chair of the URJ Biennial in 2011. She is an active board member of Rachael's Centre for Torah and Mussar, Hebrew Union College – Jewish Institute of Religion, the Union for Reform Judaism, and ARZA Canada.
A graduate of the Wexner Heritage Program, Carole has been recognized for her leadership with numerous awards including the Granovsky Award for Campaign Excellence, the UJA Federation of Greater Toronto Young Leadership Award, and the United Israel Appeal Leadership Award.
A graduate of McGill University, with a BA and Diploma in Secondary Education, Carole currently resides in Toronto with her husband, Jay, and their family. They are also active members of Holy Blossom Temple.
---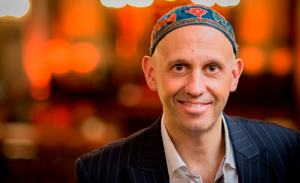 Rabbi Sergio Bergman, President
The World Union for Progressive Judaism (WUPJ) is proud to announce the appointment of Argentinian-born politician, social activist, and community leader Rabbi Sergio Bergman as its new President.
Born in Buenos Aires in 1962, Rabbi Bergman holds a Bachelor's degree in Biochemistry and Pharmaceutics from the University of Buenos Aires, and three Master's degrees: in Education from The Hebrew University, in Hebrew Letters from Hebrew Union College – Jewish Institute of Religion, Jerusalem, and in Jewish Studies from the Jewish Theological Seminary, Jerusalem.
He was ordained at the Latin American Rabbinical Seminary of Buenos Aires in 1992, and HUC-JIR in Jerusalem in 1993. He is a member of the Central Conference of American Rabbi (CCAR) and a graduate of the Jewish Agency's Jerusalem Fellows program.
Founder of the Arlene Fern Community School in Buenos Aires, Rabbi Bergman is well-known for his innovative and inspirational socio-educational and religious projects with Fundación Judaica. He serves as Rabbi at Templo Libertad, Argentina's first Synagogue.
Rabbi Bergman began his career as a community leader at Emanu El, epicenter of Argentina's Reform Movement. In 2011, he became the first rabbi ever elected to public office in Argentina and served as representative of the City of Buenos Aires. In 2013, he was elected to represent the city at the nation's congress and in 2015, President Mauricio Macri named him Minister of the Environment and Sustainable Development, a position he held until the end of President Macri's term in 2019.
Named one of the world's 100 most influential leaders in the fight against climate change, Rabbi Bergman has received numerous international distinctions and awards. He has authored seven books, is a distinguished speaker on issues of social justice and human rights, and a strong exponent of civil discourse.
Rabbi Bergman is honored to have been appointed President of the World Union for Progressive Judaism, beginning in June, 2020.
He is married and has four children.
To learn more about Rabbi Bergman, read interviews with him, and view videos he creates for World Union constituents, click here.
---
Staff:
---
Eyal Ronder | Vice President of Operations
eyal@wupj.org
Rabbi Stacey Blank | Director of Education and Leadership Development
education@wupj.org
Rabbi Blank oversees the educational and leadership development staff and activities and is the lead professional for the WUPJ Education Committee and for the Connections 2023 conference.
Carla Yael Neimarkas | Director of Youth and Young Adults Department
mazkalit@wupj.org
Carla is the professional for the Netzer and TaMaR World Youth Movements. She also coordinates the Shlichut and Shinshinim placement and the expansion of shlichut through the WUPJ. She is the representative of the Movements to the Israeli national institutions.
Ella Tishkoff-Ebrani | Director of Shnat Netzer
shnat@wupj.org
Ella is responsible for recruitment, registration, programming and overseeing the madrichim.ot staff of Netzer's gap year program in Israel.
Rabbi Shlomo Zagman | Educational Programs Consultant
seminars@wupj.org
Rabbi Zagman works on the educational content and implementation of WUPJ programs and the Connections conference and developing new programs and educational initiatives. He is responsible for building a comprehensive database of all Progressive communities and institutions worldwide.