Issue #504
Issue #504 – 1 January 2015 / 10 Tevet 5775
CONNECTING in Rio: Come and Experience Tikkun Olam, Latin Style
Chag Urim Sameach! FSU Hanukkah 5775 Highlights
A Shidduch in Pittsburgh: How the Jewish Federation Helped Make History
Trending Progressive: Bangkok, Prague

News Bits
...The WUPJ Family Mourns
In Memoriam: Maurice Bliss
Upcoming Events

CONNECTING in Rio: Come and Experience Tikkun Olam, Latin Style
Participants in CONNECTIONS 2015, the World Union for Progressive Judaism's (WUPJ) worldwide celebration of our movement taking place May 13-16 in Rio de Janeiro, Brazil, will gain firsthand knowledge of the inspiring social action initiatives being implemented in the Vigario Geral favela.
Similar to Rio's other slums, the origin of Vigario Geral is linked to the marginalization of large numbers of workers in the late nineteenth century. By the early twentieth century, state practices had evicted and pushed many poor Brazilians to the hills, into what became known as favelas.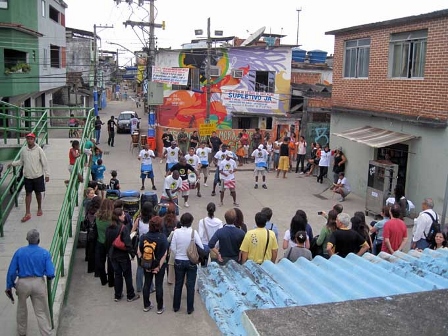 Sparks of hope: Afro Reggae puts on a show for Vigario Geral.
In the heart of the Vigario Geral favela stands the Waly Solomon cultural center, the headquarters of the
Afro Reggae Cultural Group
- an organization fighting for social change and, through culture and art, offering hope to local residents.
Afro Reggae works in poor, violent neighborhoods that are frequently controlled by drug traffickers. Opening its doors in 2010, the center offers intensive and effective activities tailored to the artistic, cultural, and educational background of people living in Vigario Geral and the surrounding communities.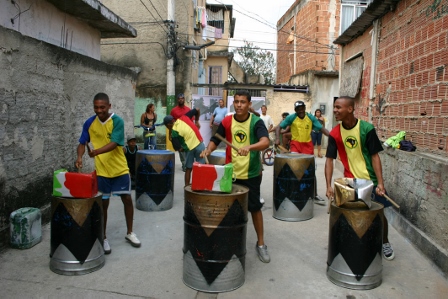 This is Tikkun Olam: Afro Reggae educates favela residents by way of music and art.
Tikkun Olam, repairing the world, is a core concept of Progressive Judaism, reflecting the responsibility of every member to promote and implement social action and social justice.

One local example of a highly effective Tikkun Olam program is the important work being done by CONNECTIONS 2015 host community Associação Religiosa Israelita (ARI).

Among the many exciting projects developed by ARI's Social Action Committee over the years, the inter-religious outreach programs have successfully promoted timeless pluralistic values – Progressive values - both within the local Jewish community and outside of it.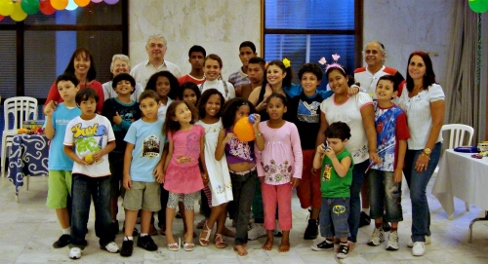 This is Tikkun Olam: ARI's sense of social justice knows no boundaries.
At CONNECTIONS 2015, you will have the opportunity to experience cutting-edge examples of Tikkun Olam that are empowering local residents on a daily basis.

We will meet the residents of the favela and learn the secret to Afro Reggae's successful implementation of its programs and beliefs.

In addition, we will have the opportunity to teach and impart some of our own values and skills in joint workshops. We will also assist in the building of a children's library by delivering books and educational tools.

Most of all, we will experience tikun olam in an utterly unique way.
Start planning your CONNECTIONS 2015 itinerary: view the list of planned sessions.
Ready for Rio? Online registration for CONNECTIONS 2015 is now available!

Chag Urim Sameach! FSU Hanukkah 5775 Highlights
Despite a year of instability across the region, Progressive communities across the FSU gathered to celebrate Hanukkah. Below, are a few highlights for the Festival of Lights in Russia, Belarus and Ukraine.
From Russia with Love
Congregation Le Dor va Dor took part in Hanukkah celebrations at the Moscow Center for Progressive Judaism, led by Rabbi Alexander Lyskovoy, Rabbi Leonid Bimbat and Cantor Dmitry Karpenko. About 100 people took part in the festivities that included a lecture about the holiday, a performance by the local Sunday School and a movie created by the Netzer Club in Moscow.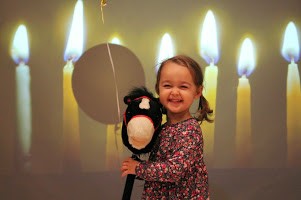 Radiant smile: one of Le Dor va Dor's youngest members celebrates Hanukkah.
Meanwhile in St. Petersburg, Hanukkah at Shaarei Shalom featured many festive activities, led by Rabbi Helena Rubinstein and facilitated by Alla Mitelman:

A Master class on cooking traditional holiday foods

Lighting of the first candle with

Jean Friedman

, Vice-Consul of Israel

"The Adventure of the Girl in the Red Kippah" performance prepared by the Shatil Kindergarten

A Hanukkah ball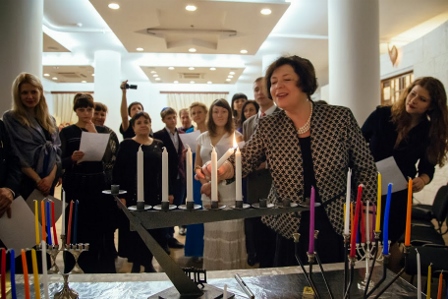 Fifth night: Rabbi Helena Rubinstein lights the menorah at St. Petersburg's Shaarei Shalom.
The congregation's celebrations were publicized on Russian TV and a number of news publications.
Boisterous in Belarus
Celebrations were held in 11 communities across Belarus. At Beit Simcha in Minsk, the first candle was lit with special guests from the embassies of Israel, Belgium and Germany.
One of the highlights during the festival included the performance "Shalom Aleichem" by artists of the Belarusian State Academic Musical Theater. Rabbi Gregory Abramovich and Mikhail Kemerov then invited theater director Michael Kavalchuk to light the first candle.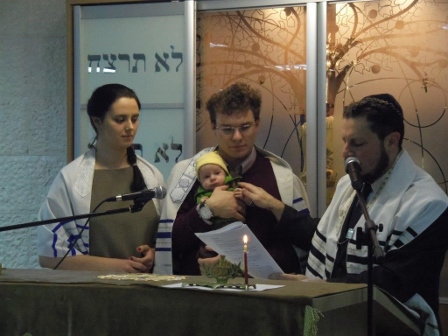 Rabbi Grisha Abramovich
leads a Hanukkah observance in Belarus.
On the last day of Hanukkah in Gomel, 20 handmade Hanukiyot were lit in the Jewish primary school "Hatikva", the only national Jewish elementary school in Belarus.
Other celebrations were held in Progressive kehilot in Mogilev, Vitebsk and Lida.
In total, over 1500 people took part in 18 different Hanukkah events in our communities in Belarus.
Havdalah and Games in Rockin' Ukraine
In Kiev, Hanukkah celebrations were led by Rabbi Alex Dukhovny. On the fifth night of the Festival of Lights, the candle lighting happened to coincide with Havdalah.
The evening was filled with donuts, gelt, a performance by local children and Netzer youth, a music festival, games and quizzes. In addition, there was a charity raffle, with proceeds going to a very ill community member. Alex Gaydar ensured that all planned activities ran smoothly.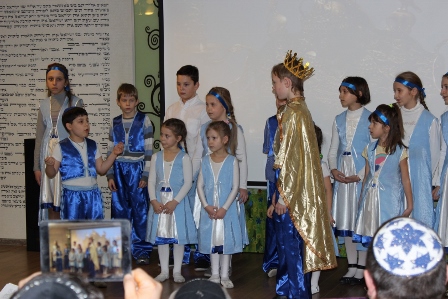 Center stage: children put on a performance in honor of the
Festival of Lights.

Another Hanukkah miracle: on the sixth night of the holiday, the opening of the Herman Gold "Hatikva" art exhibition took place.

Read the full Hanukkah 5775 in FSU report here.
A Shidduch in Pittsburgh: How the Jewish Federation Helped Make History
When the Berlin Wall fell and the doors opened to the Former Soviet Union (FSU), an opportunity of historic proportions arose: to recreate Jewish communities in the region. The development of kehilot in the FSU after decades of repression would be a momentous challenge, to Jewish continuity and identity.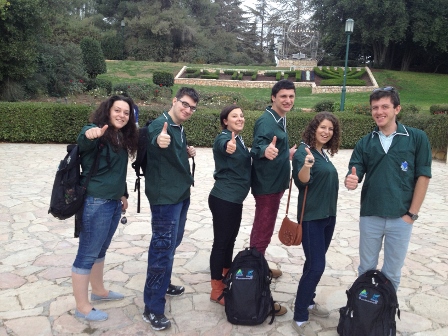 Thumbs up: Machon participants at Jerusalem's Mt. Herzl.
It was at that point that the WUPJ presented Machon, a youth leadership development program, to the Jewish Federation of Greater Pittsburgh. The Overseas Funding Committee immediately understood the need to develop young leadership and saw the opportunity to "invest" in a program that would go on to develop into the linchpin of a diverse Jewish community with a cherished past and a solid future.
Machon also resonated with the need to promote Jewish identity, continuity, and pluralism. The idea of promoting religious pluralism in regenerated Jewish communities resulted in a strong shidduch between the Jewish Federation of Greater Pittsburgh and WUPJ.
In Session: Machon visits Israel's parliament, the Knesset.
The three-year Machon program has evolved since it began in the mid 1990's. Today, the first year is spent in Moscow. Year 2 for most students is a MASA education program in Jerusalem, followed by service in a community back in the FSU. Year 3 is a combination of seminars and community service, and the completion of a major project - all overseen by mentors and senior staff.
After graduation, many receive stipends to begin community service in the FSU. More than 160 Machon graduates have gone on to leadership positions as rabbis, educators and community activists throughout the FSU and Israel. One graduate is today a rabbi near New Haven Connecticut and a trustee on the Federation board.

Class of 2014-2015: current Machon group.
Over the years, leadership and mission participants have met with Machon students and alum, both in the FSU and in Israel. Seeing the faces of the students they support has provided an extra layer of meaning to the relationship. In addition, the Machon-Federation collaboration has been the inspiration for new ways to promote Jewish continuity and identity in Pittsburgh.
The Jewish Federation of Greater Pittsburgh's support of the Machon program is a textbook example of what can be accomplished when an informed partnership decides that something must be done.
Get inspired and read the complete report now.
Trending Progressive: Bangkok, Prague
Two Up and Coming Communities Celebrate Hanukkah 5775
With congregations in 50 countries around the world, Hanukkah was celebrated by Progressive Jewish men, women and children in a wide variety of ways. Regardless of the locale, the Festival of Lights was a time to dance, sing, learn and remember.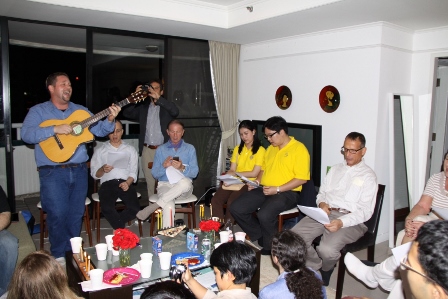 One night in Bangkok: Rabbi Nico Socolovsky serenades members of the TPJC.
In the Far East, the Thailand Progressive Jewish Community (TPJC) held its first ever Hanukkah party on December 17, the second night of Hanukkah, at a member's central Bangkok residence. Rabbi Nico Socolovsky led 26 party goers in a memorable menorah lighting and, accompanied by his guitar, in the singing of classic Hanukkah songs
Rabbi Nico, on his second visit to the community, then led community members in Friday evening and Saturday morning services and conducted a study session.
TPJC offers Thailand residents the opportunity to express their Jewishness outside of the long-established Chabad Orthodox congregation, the only other alternative here. Currently, there are approximately 40 members.
Planning a trip to Bangkok? Connect with TPJC here.
In addition, in the Czech Republic, the Progressive community of Beit Simcha shared wonderful Jewish traditions and stories with local children, bringing the Maccabean revolt, rededication of the Temple and Hanukkah miracle to life.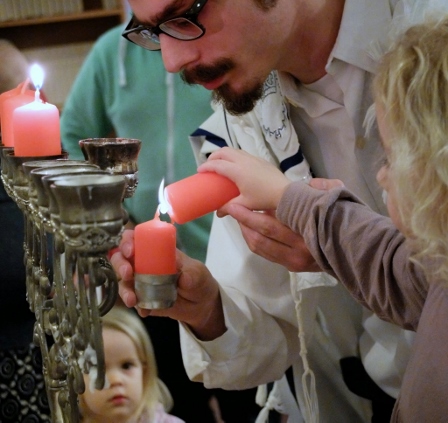 In good hands: a young member of Beit Simcha is guided through the lighting of a Hanukkah candle.
Beit Simcha's rich program included a children´s workshop; Hanukkah run; lighting of the Hanukkah candles by the Chief Rabbi of Prague David Peter; traditional Hanukkah songs by students from Lauder School and a performance by famous Czech gypsy band Bengas.
This joint effort of the entire Czech Progressive Jewish community resulted in the participation of more than two hundred guests.
Tomorrow's Leaders Converge in Israel: First Person Accounts of Klal Yisrael Seminar
Between December 21 and 28, the Roswell Klal Yisrael Fellowship, a collaboration between the Union for Reform Judaism (URJ), the Jewish Agency for Israel (JAFI), the Israel Movement for Reform and Progressive Judaism (IMPJ) and the WUPJ was held in Israel.
The aim of the Klal Yisrael fellowships is to nurture and inspire young leaders from North America, Israel and Eastern Europe as they continue to serve their camps and home communities as active change agents who are committed to global Progressive Judaism, Jewish peoplehood and Israel.
The fellowship includes four educational webinars throughout the year as well as two week-long in-person gatherings. The meeting in Israel concluded at the end of December and the one in Budapest is to take place in March.
The WUPJ would like to take this opportunity to thank Anita Saltz International Education Center Director Rabbi Steve Burnstein, who has been intimately involved with every aspect of the fellowship, from conception to implementation.
Below, are the reflections of Ori Zeevi and Eliana Fischel, Klal Yisrael fellows.
"We arrived to Jerusalem last Sunday with thirteen other leaders from Jewish progressive movements around the world. We were joined by young professionals from Belarus, Germany, Poland, Hungary, Israel, and the United States. While we both anticipated a week of formal and informal learning, we had no idea the transformative experience we were about to embark on."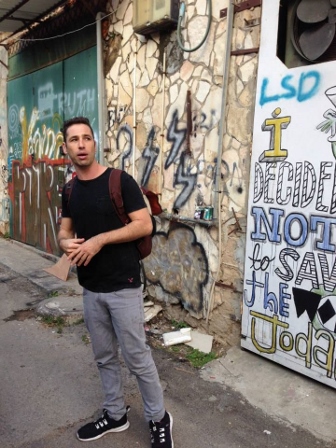 Art of protest:

Niro Taub takes fellows on a tour through Neve Tzedek and Florentine.
The program was eye opening. We met with numerous leaders from all different sects of Israeli society. Hearing their stories showed us that leadership can come in many different forms. The settler from Gush Gatif, who was evacuated from his home during the Gaza Disengagement, was just as passionate as the young Palestinian activist who described her experiences at security checkpoints. Even if we did not fully agree with each of these speakers, we were inspired by their dedication to their ideologies and goals.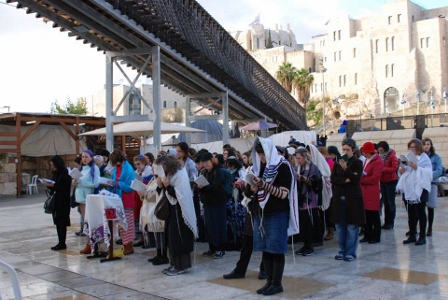 Fighting segregation, one prayer at a time: fellows with the Women of the Wall.
While the speakers were outstanding, the real growth came from the interactions we had with each other and the other fellows. This group of people contains opinions that, at times, each of us found difficult. In the past, these conversations may have turned us away from interacting. The fellowship taught us that at the point we want to turn away is exactly the point when we can create change.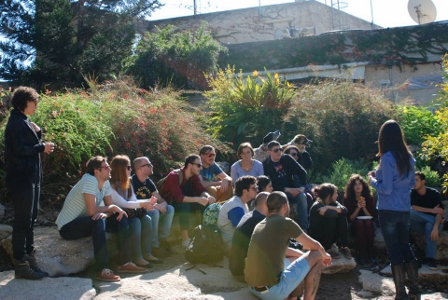 We are excited about continuing these conversations with campers and staff at summer camp. By initiating dialogue, we will ultimately produce change."
Read Rachel Brill's, the URJ's Roswell Project Manager, full report here.
Come Together: Co-Existence Conference Held at Kehilat Yozma
On the sixth night of Hanukkah, members of Israel's Reform and Progressive movement gathered at Kehillat Yozma in Modi'in for the first-ever IMPJ conference on co-existence. Joined by IMPJ staff, lay leadership, community members and a variety of guests, Progressive Jewish people from all over Israel came together in an effort to "spread the light" during a particularly tense time, with incidents of intolerance and even violence across the country rising sharply of late.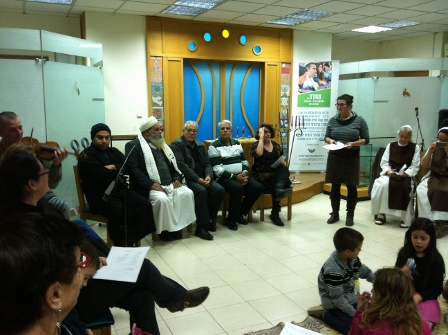 Out of many faiths, one peace: Kehilat Yozma hosts the IMPJ conference on co-existence.
The conference began with a discussion led by Anna Kislanski, Director of the IMPJ's community development department, and Rabbi Noa Sattath, Director of IRAC, on the challenges and opportunities in working towards co-existence and shared living in our communities.
In the afternoon, representatives of ten different Israeli organizations that are working in the field of co-existence and shared living spoke with conference participants about their efforts to promote a more peaceful Israel.
Next, the play "The Neighbors Are Good in My Eyes" was put on for children.
An interfaith candle lighting with priests and nuns from a variety of convents around the country proved to be the most moving moment of this inaugural conference aimed at fighting racism in all its forms.
Election Fever: Upcoming Webinar to Solve Mysteries of Israeli Politics
On January 11, the Anita Saltz International Education Center will be kicking off an exciting and timely series of webinars with a presentation that will make sense of all the confusion surrounding Israel's upcoming elections.
Where to start? New seminar will provide a guide to Israel's elections.
"Cracking the Code: Professor Paul Liptz Guides You through the Byzantine Israeli Electoral System (among other topics)" is the first in a slate of online video presentations that will provide fresh insights into the Progressive Jewish world's most pertinent issues.
The first webinar in the series will explore the rise of the right in Israel; the implications of the breakup of the ultra-orthodox religious political party Shas; the attempts by the three Arab-Israeli parties to merge and the pact between Labor Party chairman Yitzhak 'Buji' Herzog and Hatnuah leader Tzipi Livni.
In the coming months, other webinars will include:
Straight Talk Express: New WUPJ President Rabbi Daniel Freelander's Innovative Plan for Progressive Jewry.

Fighting for Justice, Israeli Style:
A Conversation with IRAC Director Rabbi Noa Sattath.

New Government. Now What? Professor Paul Liptz Explores the Myriad of Post-Election Coalition Possibilities.

Tracking Tomorrow's Leaders:
A Conversation with Rabbi Yehudit Werchow about the Klal Israel Global Fellowship.

Travelling the Progressive Road: Rabbi Joel Oseran and Professor Paul Liptz Discuss Developments in the Progressive World.

Celebrating with Israel: An Overview of the Israeli Progressive Movement's Plans for the High Holidays.
HUC-JIR Announces Naming Gift for School of Jewish Nonprofit Management from Marcie and Howard Zelikow

Hebrew Union College- Jewish Institute of Religion's (HUC-JIR) School of Jewish Nonprofit Management will be renamed in honor of Marcie and Howard Zelikow after the couple provided a multi-million dollar donation.

The Zelikows provided a $5 million endowment along with a $1 million commitment for current operations to the Los Angeles school. The official dedication of the school will take place on February 8, 2015.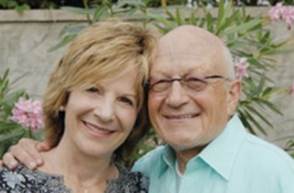 Paying it forward: Marcie and Howard Zelikow.

"Our investment in the Zelikow School is an investment in the Jewish future," Marcie Zelikow, the immediate past chair of the school's Advisory Board and a member of the college's board of governors, said in a statement. "We are proud to support its ever growing impact on Jewish life in the Reform Movement and across the Jewish landscape, today and for the generations to come."
Dr. Joshua Holo
, Dean of the HUC-JIR Skirball Campus in Los Angeles, noted that "Marcie and Howard Zelikow's endowment gift will help the Zelikow School become a truly national, and even international, resource, enabling HUC-JIR to offer courses and certifications in nonprofit management to rabbinical, cantorial, and education students on all of its campuses, as well as executive degrees and certification for rabbis, cantors, educators, and communal professionals already in the field."
Lights, Camera, Reform! Minsk Film Festival Becomes Showcase for Movement

The 17th International Hanukkah Festival of Short Films, held in Minsk between December 12 and 14, was a big night for Netzer. The festival, run by the Jewish Agency for Israel in Belarus, featured 17 youth groups, eight of which were either Netzer or Reform-affiliated - based in either Israel or the FSU.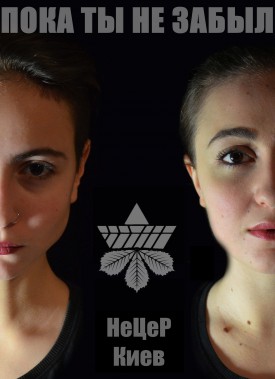 Netzer groups took home the prizes for Best Screenplay of the Year (Netzer MASA Israel) and Judges' Favorite (Netzer Minsk).

Netzer groups have competed in the festival for the last 15 years, delivering strong performances annually.

However, this year was exceptional, with Netzer's representation at the competition being the largest one yet.

The film festival was established in 1997 and has been run during the Hanukkah holiday every year since, becoming an integral part of the local Jewish scene.

Back in 1997, it would have been inconceivable that a local Belarusian film competition could possibly develop into one of Russian Jewry's most anticipated events. Since the festival's founding, its pool of competitors has expanded greatly to include teams from Russia, Ukraine, Moldova, the Baltic states, Germany and Israel.

All Netzer-affiliated films can be see with the following links:
Netzer, Kiev
Netzer, Moscow
Jerusalem – Netzer MASA
Odessa
Netzer Gomel and Netzer Mogilev
Netzer Minsk
Chelyabinsk
Tyumen


URJ Launches New Online Learning Center to Enhance Inclusion of People with Disabilities in Congregations

The Union for Reform Judaism (URJ) and the Ruderman Family Foundation this week launched the URJ Ruderman Disabilities Inclusion Learning Center, an innovative and interactive online resource center.

"Thanks to this partnership with the Ruderman Family Foundation, the URJ is able to offer this innovative, comprehensive and high level online learning program to help strengthen congregations," said URJ President Rabbi Rick Jacobs.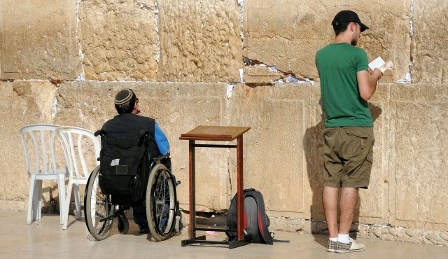 One people, different abilities: URJ Ruderman Disabilities Inclusion Learning Center is launched.
Users will learn how to incorporate practices that promote inclusion in such areas as early childhood programming, religious school, b'nai mitzvah preparation, worship, and adult and youth programming.

Additionally, information will be available about disabilities advocacy and community partnerships. There are questions at the end of each study session to ensure participants have absorbed the material. Finally, users will be encouraged to share questions and comments with one another and with disabilities experts through the site's discussion boards.

A key element of the this pioneering learning site, open to all, offers visitors the information and strategies to develop truly inclusive congregations where everyone can fully participate in and contribute to Jewish communal life and learning.

An equally important goal of the site is to decrease the stigma and misconceptions surrounding disabilities.
In Memoriam: Maurice Bliss
The leadership and staff of the World Union offer their sincerest condolences to the family of Maurice Bliss who passed away unexpectedly in London. Maurice, a happily retired former dentist, was the eldest brother of Phillip Bliss, the WUPJ's Advocacy and International Interfaith Committee chair.
May Maurice Bliss's memory be for a blessing and may Philip and his entire family be comforted amongst the mourners of Zion.
Dear Reader

Stay current with newsletters from our regions. Click here for more details.
What do you think about our newsletter?
Please click here to send your comments or suggestions.
Upcoming Events

January 15-20 2015 - Netzer Veida Olamit, Israel
January 8-15, 2015 -
The Roswell Seminar for Social Justice
, Israel

February 5-15, 2015 -
Beutel Seminar
, Israel

March 22-25, 2015
-
Pursue Justice: Seminar for Legal Professionals
, Israel

May 13-16, 2015
–
Connections 2015, World Union for Progressive Judaism(WUPJ) 37th Biennial Conference
, Rio de Janeiro, Brazil

May 28-June 7, 2015
-
The Israel Study Kallah
, Israel

July 2-12, 2015 -
Bergman Seminar for Jewish Educators
, Israel

October 7-22, 2015
-
Israel - Poland Mission
, Israel & Poland

November 4–8, 2015
–
Union for Reform Judaism (URJ) 73rd Biennial Conference
, Orlando, Florida
May 27-28, 2016

- Israel Movement for Progressive Judaism (IMPJ) Conference, Israel